John Hoyer, 1st Place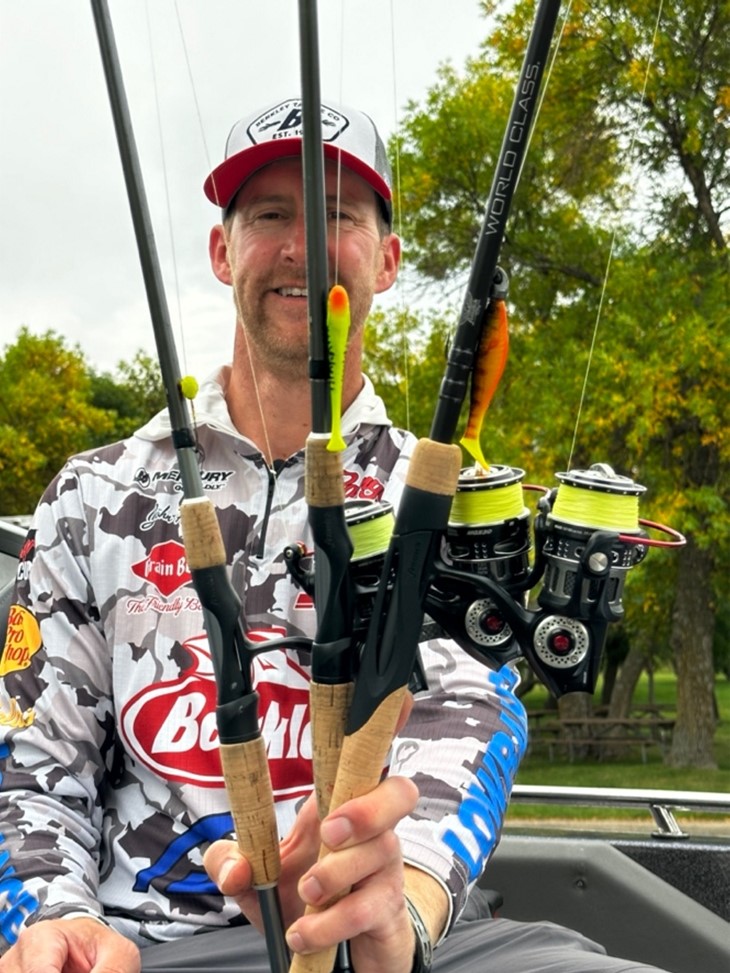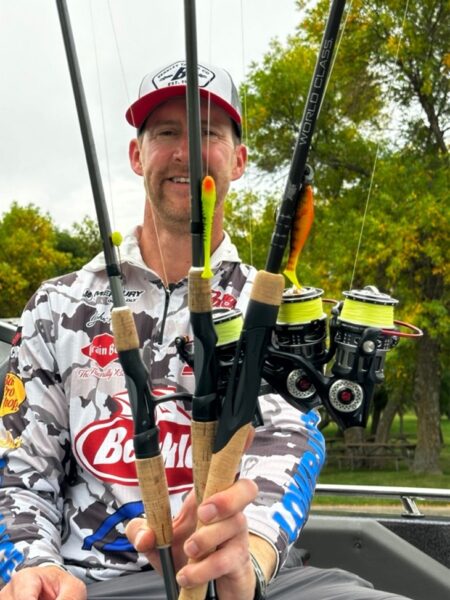 John reported catching all of his fish during the three days on competition on a Berkley "Champ" Swimmer rigged on a 1/4oz Berkley Fushion19 Jighead, a Berkley Agent E Swimbait, and when the fish got "cranky" as he called it he would down size to a jighead with a nightcrawler. "The crawler actually saved my tournament because it helped me catch most of my quality fish, including the 11-pounder from yesterday", said Hoyer. All of his baits were fished on Fenwick rods and Abu Garcia reels.
Issac Lakich, 2nd Place
Isaac reported catching all of his fish utilizing his Garmin LiveScope and throwing a small Do-It Molds jighead rigged with crawlers.
"I think I've become known out here as someone that has spent a lot of time with the Garmin LiveScope and really have it dialed in. That helped me a lot on Devils Lake this week, but also my Okuma rods and reels to give me the ability to fight my fish effectively and not worry about smaller tackle of line size".
Will Pappenfus, 3rd Place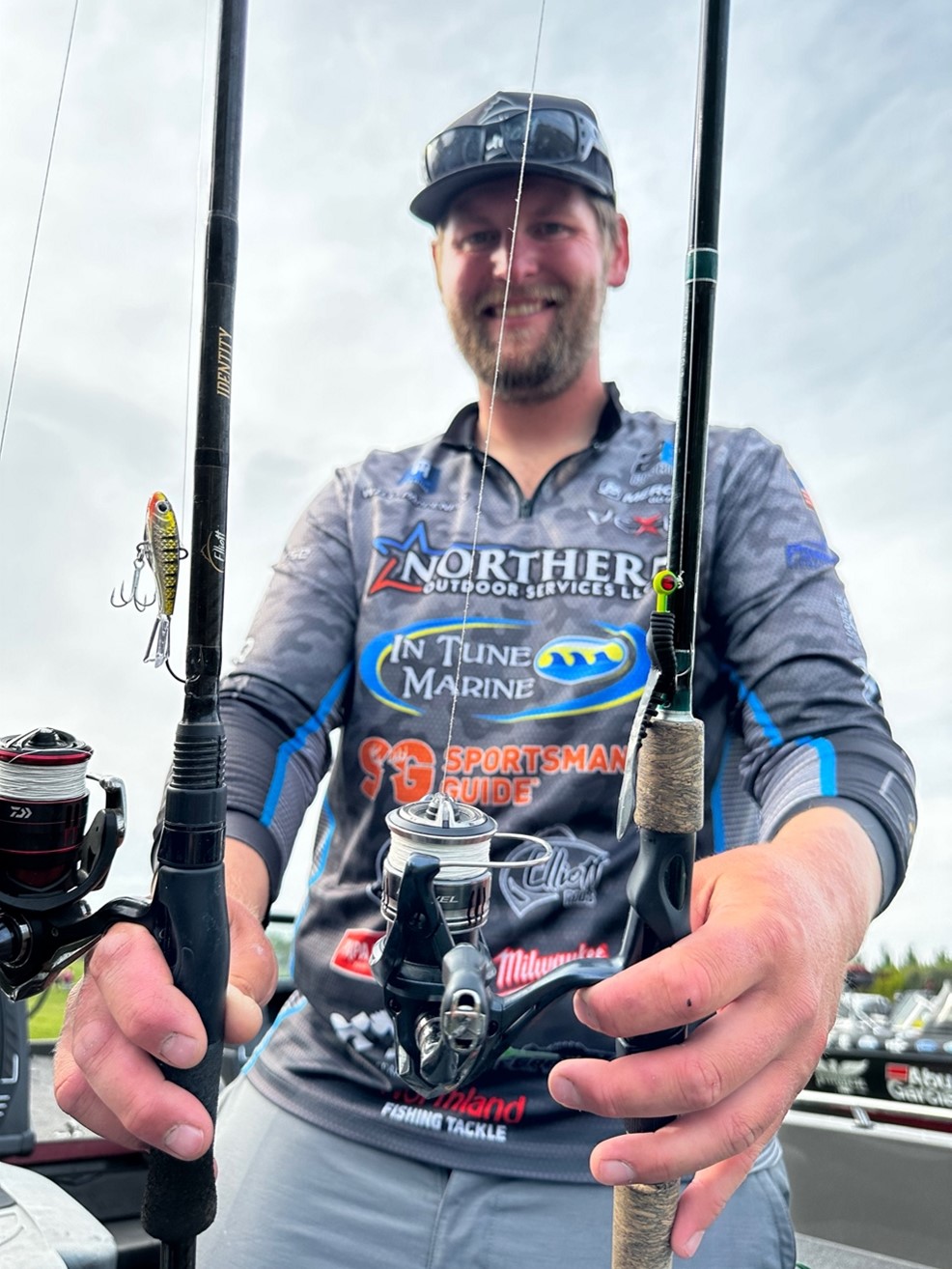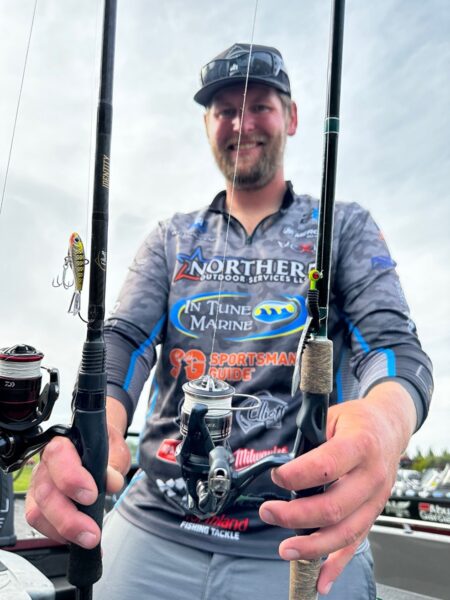 Will Pappenfus, from Shevlin, MN finished the 2023 NWT Championship in third place with 79.03 and taking home $17,247.
"This week just really worked out for me. I had a few good areas that I rotated around, and it all just seemed to go right", said the Mercury pro. "I finally felt really comfortable during this tournament and fished relatively clean, so over all I am happy, and this is a great way to end the year."
Will said that his primary bait choices were a Northland Tackle Short-Shank Tungsten Jig rigged with a Northland Tackle Eye-Candy Crawler, and a Northland Tackle Rattlin' Puppet Minnow. All of his baits were rigged on Elliot Rods with Diawa spinning reels.
Josh Wiesner, 4th Place
Power-Pole Pro-Angler Josh Wiesner, from Fond Du Lac, WI, was able to secure his Top-5 finish using forward facing sonar and dropping down on big schools of Devils Lake walleye.
"It took a lot of patience, but it paid off in the end. Like most guys on [NWT] Tour I relied heavily on forward facing sonar and did my damage with a jiggin' rap", said the Ranger/ Mercury pro. "…everything just fell into my lap this week and I was able to stay consistent with my weights."
Josh used two different Rapala Jiggin' Raps throughout the tournament. The one that seemed to be the most productive is a custom painted color from Hot Shot Customs, and the other in a perch pattern. Additionally, when his fish didn't react to the Jiggin' Rap, he would drop down a Bass Assassin Sea Shad Assassin on a heavier jighead to get the fish to react.
All of his baits he fished on St. Croix spinning rods and the new SEVIIN spinning reels. Josh also wanted to also give a special to all of his guys back at Ranger dealer The Boat Doc for all of their hard work and support.
Dustin Minke, 5th Place
Rounding out the Top-5 is Ranger/ Mercury Pro-Angler Dustin Minke. Dustin, link many of the other anglers at the 2023 NWT Championship used smaller presentations and was watching his fish react to his baits the entire week.
"Always pumped for a great finish, especially in the championship", reported the Minnesota NWT veteran. "Today, the last day of the event when it all mattered, my spots seemed to dry up a little but regardless I am pleased with this week. My family was here to give their support and it just capitalized a great year for me".
Dustin relied on a Deep V-Jig on a bobber, a Northland Tackle Eye Candy Shad on a Mimic Minnow Jig Head, and a Northland Tackle Pitchin' Puppet all rigged on Elliot Rods spinning rods.
Additional information on the events, contingency prizes, and more exciting announcements will be shared soon. For more information on updated angler qualifications, please visit www.nationalwalleyetour.com.
###
National Walleye Tour events are made possible through the sponsorship and continued support of these well-respected brands: Bass Pro Shops, Cabela's, Progressive, Nitro Boats, Ranger Boats, Triton Boats, Mercury Marine, Aftco, Garmin, Power-Pole, TH Marine, Sunline, Gamakatsu, Panther Marine, Trollmaster