SPRINGFIELD, Mo (June 8, 2023) – Widely regarded as one of the most prestigious accomplishments in tournament bass fishing, winning an "Angler of the Year" or "Team of the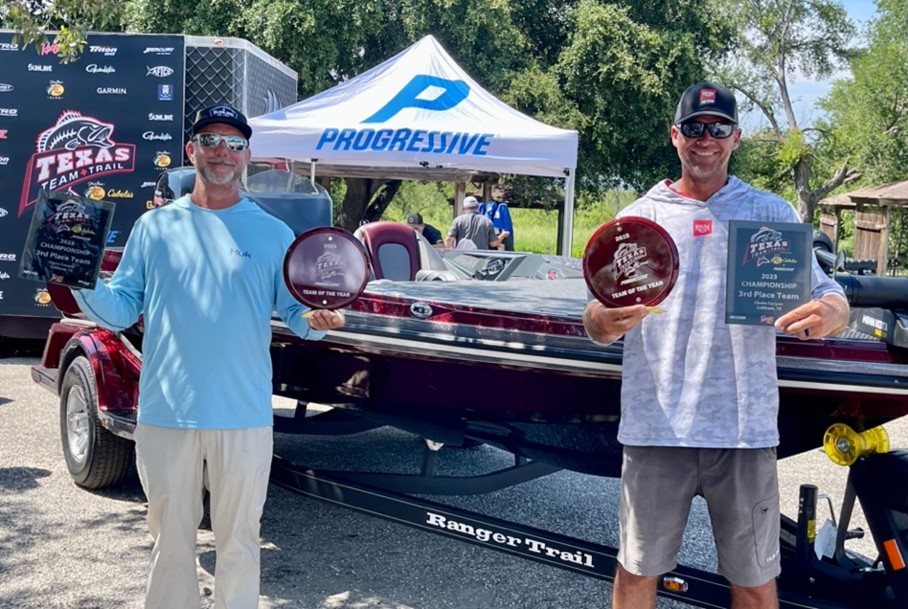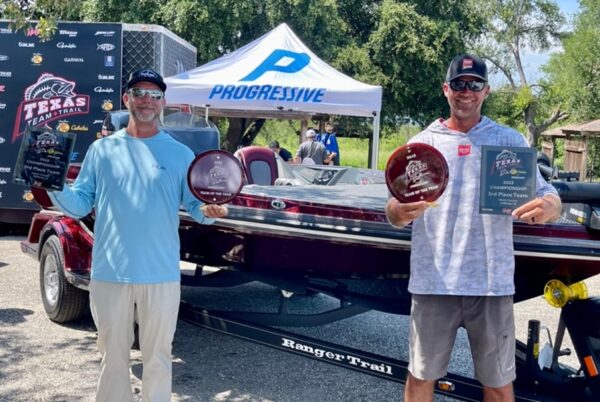 Year" title is a well-respected feat. For Russell Cecil and Todd Castledine, this achievement is another drop in the bucket, having now secured the title three times on the Bass Pro Shops & Cabela's Texas Team Trail presented by Progressive. The duo clinched their third title – and the shiny prize that went with it – after finishing in third place this past weekend at the 2023 Texas Team Trail Championship on Choke Canyon Reservoir.
Having fished together since the inception of TXTT, Cecil and Castledine have proven to be top competitors year after year. In addition to the Progressive Team of the Year honors in 2023, the team cashed out tournament winnings at every regular season event, never landing outside of the Top 20 with two Top-5 finishes.
"We never really knew each other until Texas Team Trail started several years ago," said Castledine. "When this started it gave us the chance to not only recognize how good the other one was, but then combine it and start fishing together in the trail. The year we started fishing this together, we won the 'Team of the Year' title. Now to fast-forward winning our third (TOY award), it's not only an honor, but I hope it shows other teams that when you work as well as Russell and I do together in the boat, great things can happen."
"The biggest factor to our success is trust," Cecil commented on stage on the final day of the 2023 Texas Team Trail Championship. "We work hard during practice to stay out of each other's way, and every action we do contributes to the overall success of our tournament day – and that goes further than just being out on the water."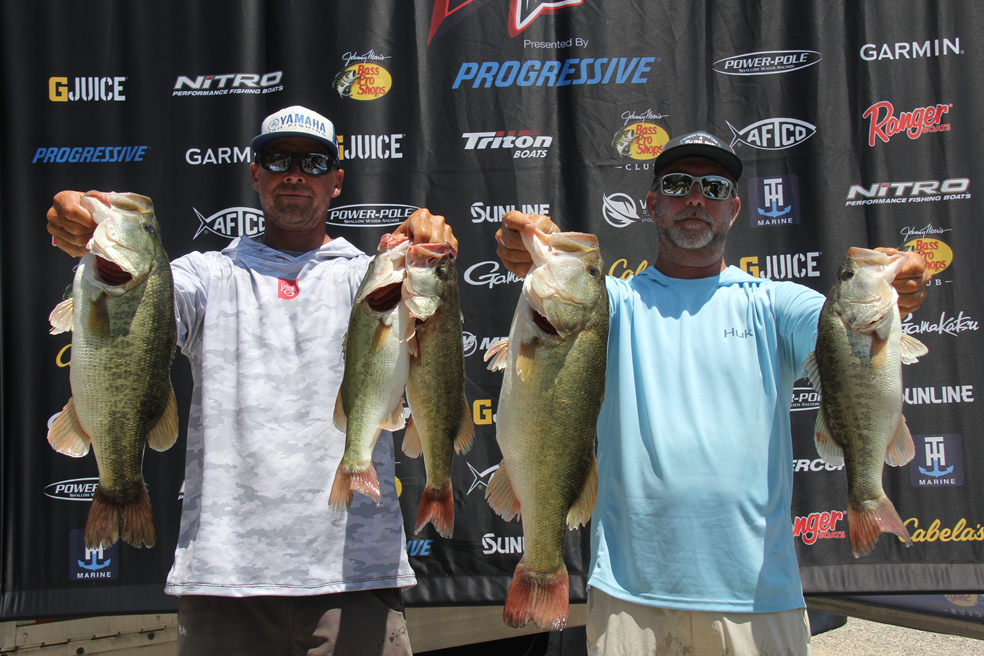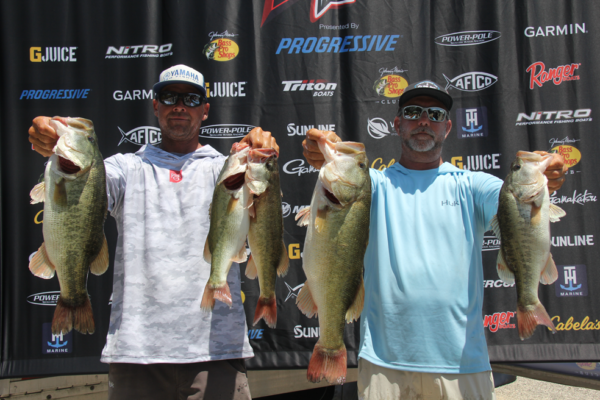 Cecil also reflected on capturing another TXTT TOY title, "Man, this one feels good. The teams this year in the Texas Team Trail seemed to be as strong as I can remember, and it did not come easy. We were backed up against a wall right up until the very end".
Castledine added, "We would like to tip our boys from Arizona [Seth Furmanek & Robert Kettner]. They kept us on our toes all day, and we knew with how good they were fishing that one little slip up and they would have us. They made an insane amount of traveling this year, and not only that, they held their own against the best in the state of Texas, where guys fish all the time and know these lakes like the back of their hand."
At the close of the 2023 season, Cecil and Castledine amassed $11,921 in cash, won a $500 Garmin Owner Contingency payout at Ray Roberts, and walked away with a new 2023 Ranger Z-518 powered by a 150 Mercury Pro XS for winning the 2023 Progressive Team of the Year title. In all, the team won a total of $64,916 in cash and prizes.
Top 10 Progressive Team of the Year final rankings with 2023 total earnings
1st Place: Russell Cecil & Todd Castledine, $64,916
2nd Place: Seth Furmanek & Robert Kettner, $8,569
3rd Place: Spencer Fair & Blake Castleberry, $4,637
4th Place: Travis Loyd & Brien Vaughn, $5,941
5th Place: Austin Miles & Jacob Keith, $8,719.50
6th Place: Michael Johnson & Byron Albrecht, $1,070
7th Place: James Martin & Hunter Muncrie, $500
8th Place: Jeff Bridges & Jerome Cope, $3,119
9th Place: Rich Dalbey & David Gillham, $1,302
10th Place: Chris Zachry & Randy Qualls, $5,438
Full 2023 Progressive Team of the Year standings can be found here.
About Texas Team Trail
Texas Team Trail is a part of the Outdoor Team Works family of fishing tournaments. The OTW brand offers a wide range of fishing events from professional tournaments to grassroots fishing derbies. All events are supported by some of the top companies in the nation and include on-site activation and activities, as well as extensive media support.   For additional live updates and information, follow TXTT on Facebook and Instagram and visit www.texasteamtrail.com for more information.
2023 Proud Sponsors
Bass Pro Shops, Cabela's, Progressive, Nitro Boats, Ranger Boats, Triton Boats, Mercury Marine, Aftco,   Garmin, Power-Pole, TH Marine, Sunline, Gamakatsu