WAGNER, SD (June 22, 2023) — Day One of The Bass Pro Shops & Cabela's National Walleye Tour (NWT) presented by Progressive on Lake Francis Case in Wagner, SD goes to Ranger/ Mercury pro Duane Hjelm with a five fish limit of walleye weighing 15.08.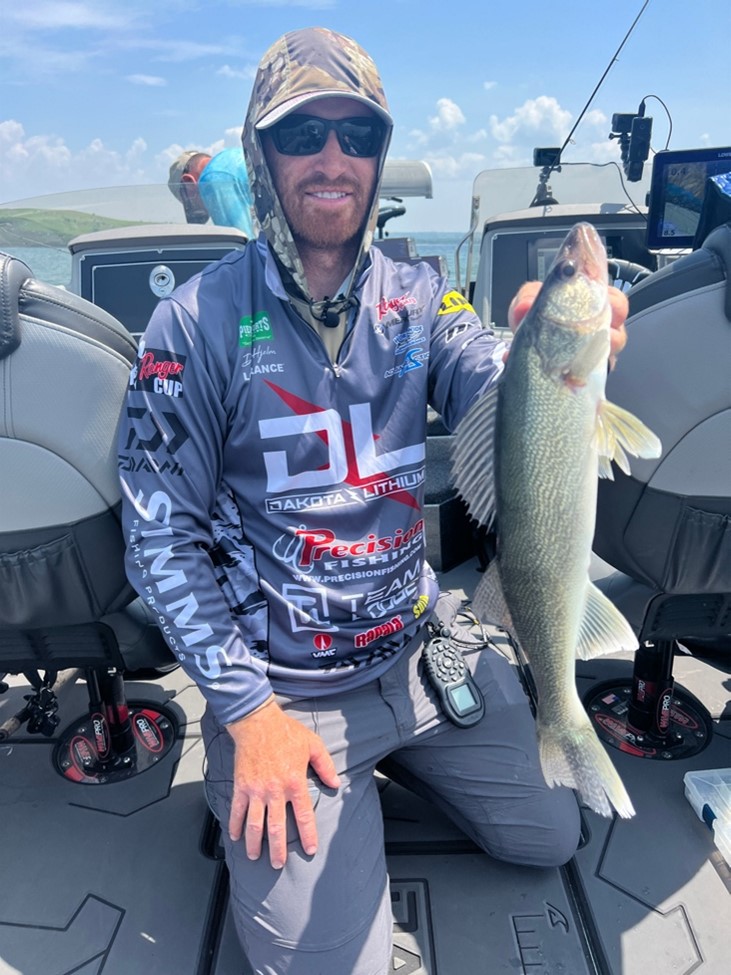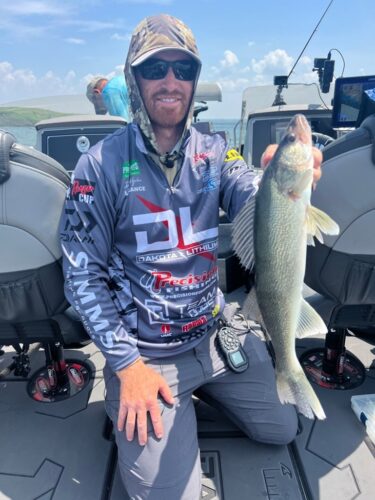 "It was a very exciting day. My first cast I called for the net and my co-angler was still rigging his rods," said the 2022 National Walleye Tour Angler of the Year. "Everything went right, we had caught our weight by noon and that let me scramble around to try and find some new stuff for tomorrow". Duane reported that he caught his over slot walleye early in the day and that made things go by a lot easier. "I am around them, making them bite is the hard part, but I know I am around the fish to win this thing. I've been in this situation before".
Hjelm is the hottest walleye fishing pro in the nation right now and his final thoughts are that he still believes around the 30-pound mark for two days will have a strong chance in winning the tournament. He hopes to go out on Day 2 and repeat his success.
Eric McQuoid and Ryan Thompson Tied for in Second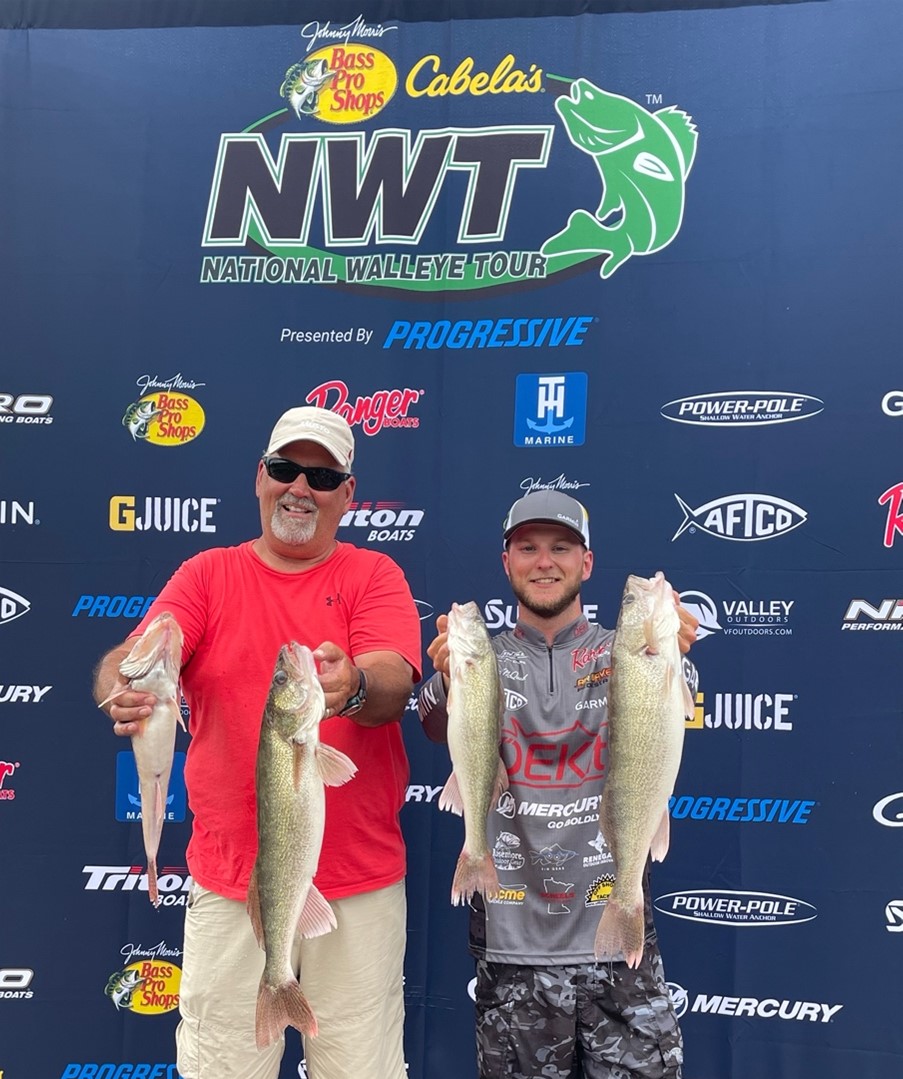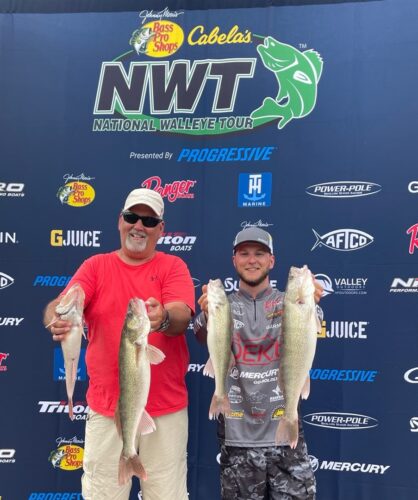 Garmin Pro Eric McQuoid said, "Today started out slow, and then after getting a pair of key catches- a 26 and 24 incher- we were then able to go chase some slot fish and relax a little more".  "But it did take all day to get the weight I had." said Ranger/ Mercury pro Eric McQuoid. McQuiod came into the tournament sitting in 9th place of Progressive Angler of the Year points.  He stated he has his eye on winning the title but also said he thought this event was going to be his toughest tournament of the NWT season but now he's got a legitimate shot to win.  McQuoid said Garmin LiveScope is really playing a key part in catching my fish.  "When I see one, I'm dropping down to them and having to really trigger the bigger fish into biting. I think I am on the right fish to finish well in this tournament, but it's a grind out there."
Tied for Second is Ranger Pro-Angler Thompson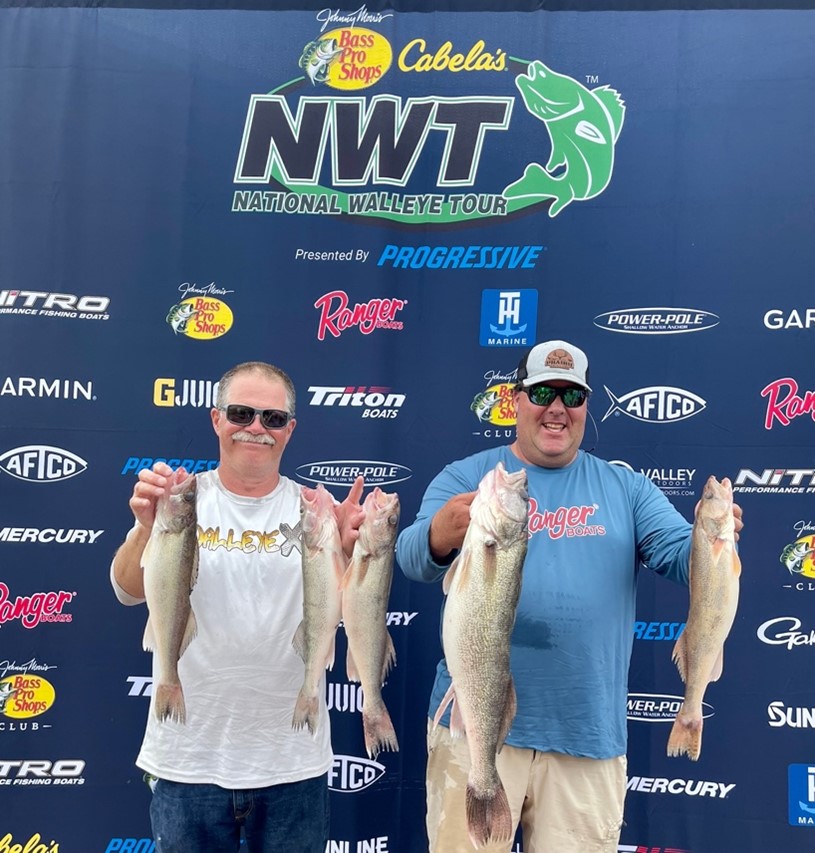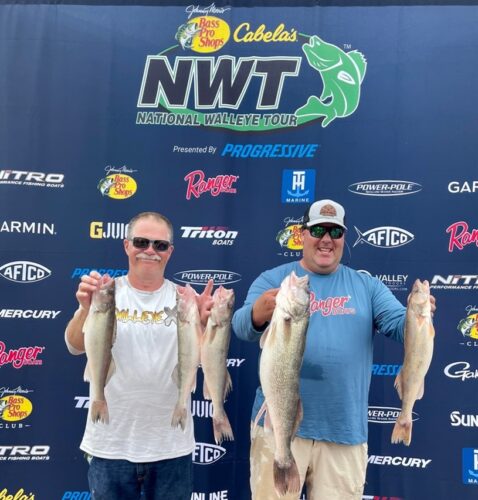 Ryan Thompson, a National Walleye Tour pro from Pierre, South Dakota also ended  Day-1 tied for second after catching a five fish tournament limit of 14.12.   His limit featured  was anchored with one of the biggest walleyes weighed-in on the first day of competition.
"What a fun day of fishing, I had a great co-angler-so it was like two ol buddies going fishing.  We started catching them early and we had our weight by 11", said the Ranger pro. "This is the first time I've fished this section of the river, after normally fishing the Chamberlain area. This is a beautiful part of the river, and I am glad to be in the position I am in being the first time I've fished down here" reported Thompson. Ryan went on to say that he feels confident with the fish he is around and hopefully tomorrow he can pull his baits over the right quality like he had today and keep himself in contention".
"I would also like to say hello to my family that supports me being out here, but also a shout-out to Pierre Sport Center– by far one of the finest Ranger dealers out there I think. Tomorrow I am going to run my 621 Pro back down the Missouri River and make them proud".
Nitro/ Mercury Pro-Angler Nussbaum Ends Day-1 in Third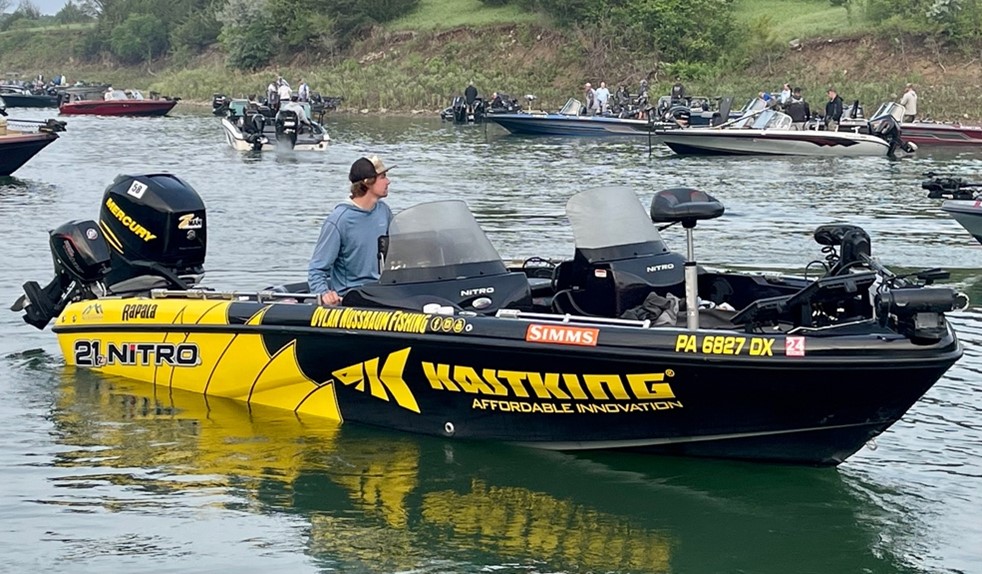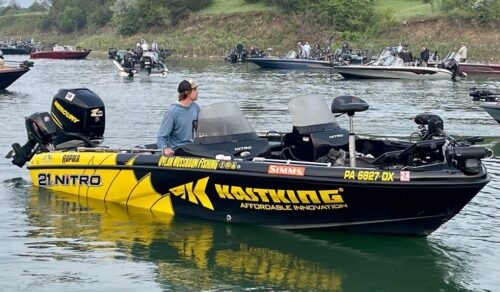 25-year-old Dylan Nussbaum ended Day-1 of the third stop of the Bass Pro Shops & Cabela's National Walleye Tour presented by Progressive event sitting in third with a five fish limit weighing 13.08.
The Nitro/ Ranger pro said, "man…….today was just crazy. I had a good practice and I felt good about today, but I didn't think it would turn out like this. My co-angler and I caught 30 fish today, got the right overs, and it all just fell into place", said the Pennsylvania angler.
"I am not doing anything special, just throwing a Z-Man plastic on a VMC jighead and dropping it down to them watching them on my electronics. There were a few fish I saw today that I couldn't get hooked so I am definitely around the fish I think I need'.
Dylan always has a very large following on social media and a very supportive family back home. He wanted to give them a special thank you and can't wait to see what tomorrow has to bring.
The Rest of The Top Ten After Day 1:
5.) JARED MOHNEN            MITCHELL, SD           13-06
6.) CHRIS AUGUSTYN           AXTELL, NE                13-05
7.) CODY PIXLEY                    BOZEMAN, MT         13-02
8.) OWEN WILCOX                LAUREL, MT               13-00
9.) BRIAN TORDSEN             SIOUX FALLS, SD        12-13
10.) JASON BROUGHTON    CORSICA SD                12-12
Day 1 Pro-Angler results can be found here: https://outdoorteamworks.com/wp-content/uploads/2023/06/2023-NWT-Lake-Francis-Case-Day-1_pro.pdf
Day-1 leading Co-Angler is Ray Van Orden with 15.08
Full Co-Angler results from Day 1 are here: https://outdoorteamworks.com/wp-content/uploads/2023/06/2023-NWT-Lake-Francis-Case-Day-1_co.pdf
Additional information on the events, contingency prizes, and more exciting announcements will be shared soon. For more information on updated angler qualifications, please visit www.nationalwalleyetour.com.