Nussbaum in second, Ragotzkie finishes third
WAGNER, SD (June 23, 2023) — The winner of The Bass Pro Shops & Cabela's National Walleye Tour (NWT) presented by Progressive on Lake Francis Case in Wagner, SD is Ranger/ Mercury pro Duane Hjelm with a final weight of 27.10, taking home a total of $95,055 in cash and prizes including a 2023 Ranger 620FS w/ 250 Mercury Pro XS.  Because Duane is a qualified Ranger Cup owner and the winner of the tournament, he will receive an upgrade on his prize boat to a Ranger 621FS.
"What an exciting but crazy week, my nerves are absolutely shot! I can't believe I won this one but I had a great feeling after practice that I was going to be in contention," said the South Dakota pro. "To win this one in my home state is really special but also today is my anniversary and that weighed heavily on my mind all week". Duane weighed in 15.08 on Day One to take the lead, today he backed that up with a five fish walleye limit of 12.02 to seal the win by over a pound.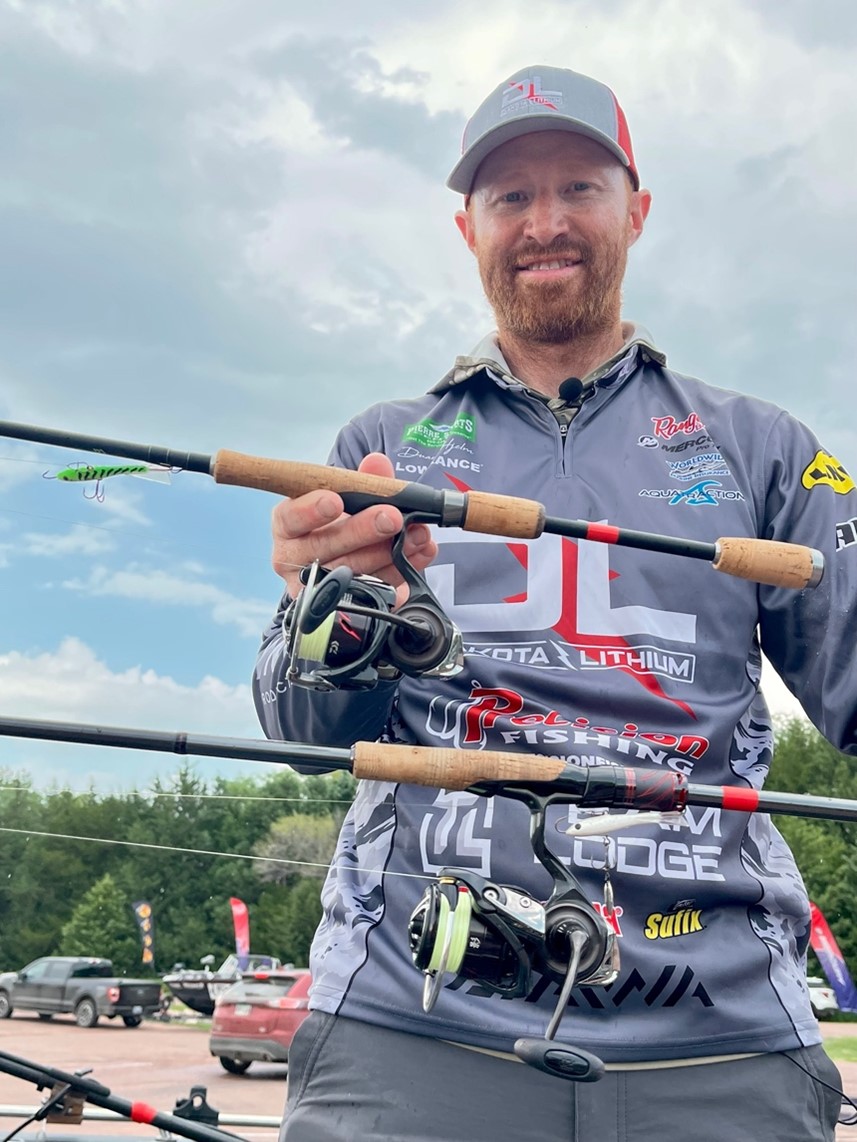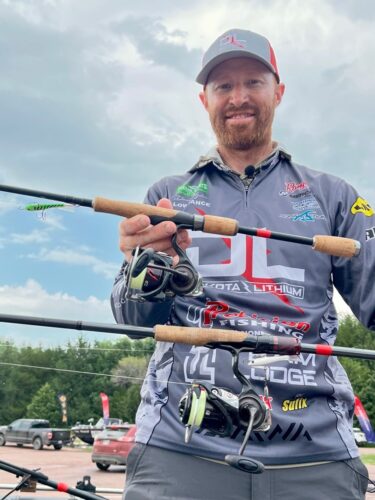 Hjelm is widely regarded by his peers as the hottest walleye fishing pro in the nation right now and he said the week his key technique was targeting deeper walleye using forward facing sonar and dropping a Rapala Jiggin' Rap down to the fish. "A big key for me this week was my sonar but also having the right bait to mimic what the bigger walleye were keying on, also staying patient. At around noon today I took a huge gamble and threw back a 23-incher and about fives after I did that I wondered if I just cost myself a new Ranger Boat. But I was fortunate enough to land a few other key fish to give me the weight I had".
Hjelm also took home the $1,000 Mercury Marine Bonus.
Nitro/ Mercury Pro-Angler Dylan Nussbaum Takes Second
Nitro and Mercury pro Dylan Nussbaum from St. Marys, PA walked away with second place after weighing in 13.01 on the final day giving him a total weight of 26.09 and cashing a check worth $26,550 including Nitro Rewards Bonus.
"Total was stressful, I didn't catch an over walleye until around 2 o'clock. I had to bounce around all day to catch the fish that gave me my final weight", said Nussbaum.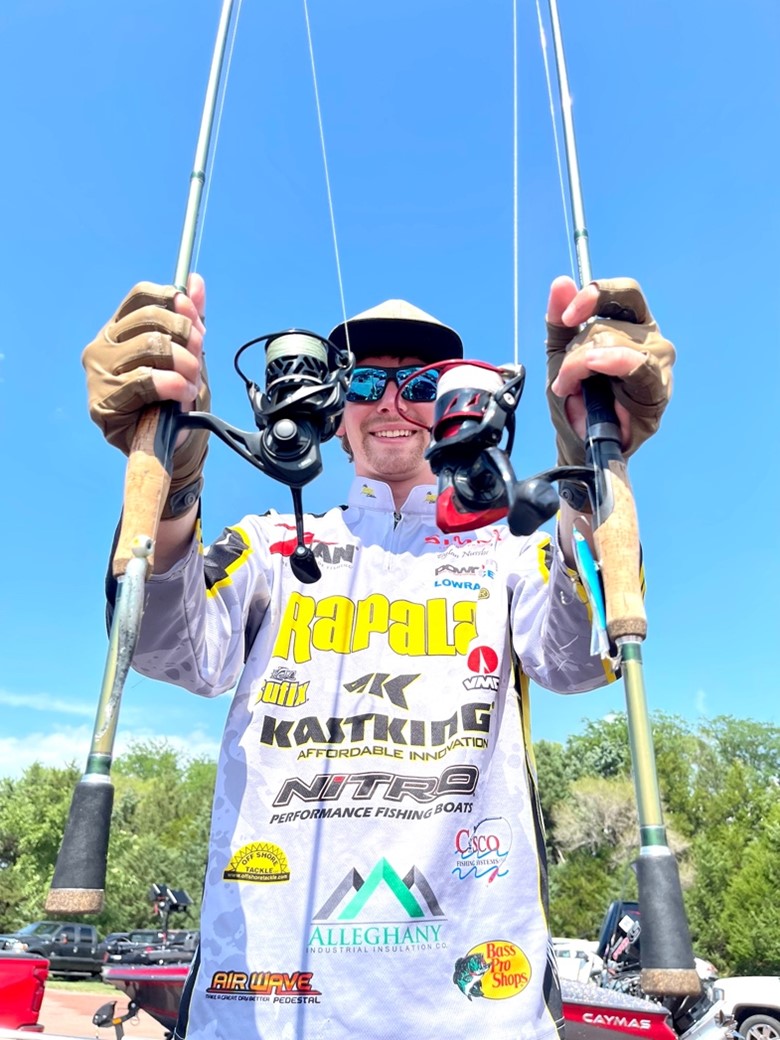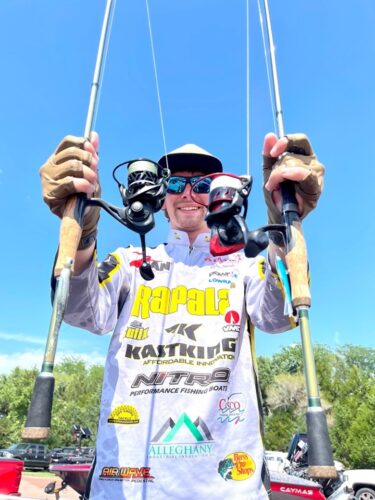 Dylan reported catching his fish primarily on a silver and blue Rapala Jiggin' Rap and also caught a number of key fish with a Moon Eye Jighead and Z-Man soft plastic swimbait.
"I just really want to thank my family, my girlfriend, and my sponsors for helping me be out here. It definitely takes a lot to help someone my age be out here and without them and my support I just couldn't do it."
Third Place Goes to Wisconsin Pro-Angler Austin Ragotzkie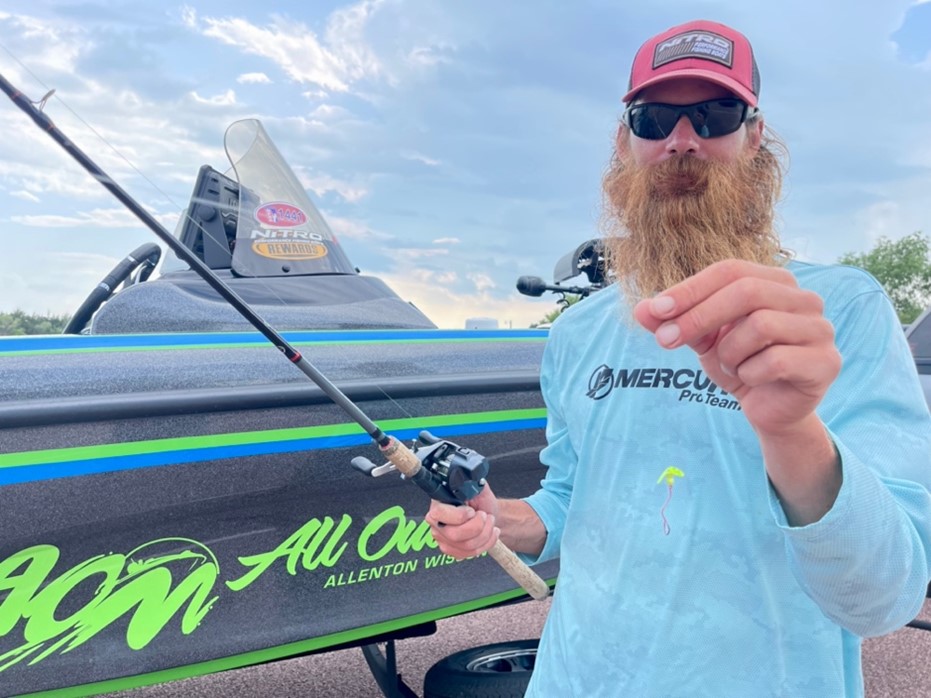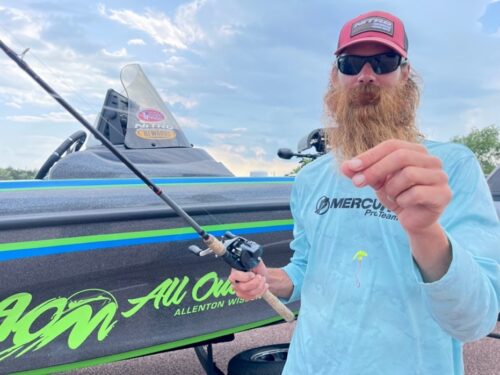 Nitro and Mercury Pro-Angler Austin Ragotzkie made his first Top-5 finish of the 2023 season at Lake Francis Case after weighing in a total of 25.12 taking home a check worth $18,300 and received a Nitro Rewards Bonus.
Austin reported targeting suspended fish that were holding in really deep water, deeper than he was expecting.  He caught his fish throwing crawlers on a Smile Blade.
"Forward-facing sonar and staying really patient were keys for me, and sometimes I am not the most patient person, especially in a big tournament like this", said Ragotzkie. "A big player for me though was staying in that deeper part of the lake which really seemed to hold the better quality fish. He also said using a longer Fish Boys Custom Rod was key when trolling for the walleye I caught this week and keeping them hooked up".
Austin wanted to thank his local Nitro dealer All Out Marine for helping him stay on the water and supporting him fishing the full season of the 2023 Bass Pro Shops & Cabela's National Walleye Tour presented by Progressive.
Austin was the winner of the Garmin Contingency Bonus worth.
The rest of the Top-10 Final Pro-Anglers:
4.) CURT HANSON-MAYVILLE, ND             25-09              $16,033
5.) JOHN HOYER-WAYZATA, MN                25-09              $14,690
6.) RYAN THOMPSON-PIERRE, SD              25-07              $12,320
7.) MIKE DEFIBAUGH-BELLEFONTAINE,OH          25-06  $12,250
8.) JAKE CAUGHEY-OH FARGO, ND            25-02              $9,662
9.) DEAN ARNOLDUSSEN-APPLETON, WI 24-13              $8,308
10.) OWEN WILCOX-LAUREL, MT              24-02              $6,675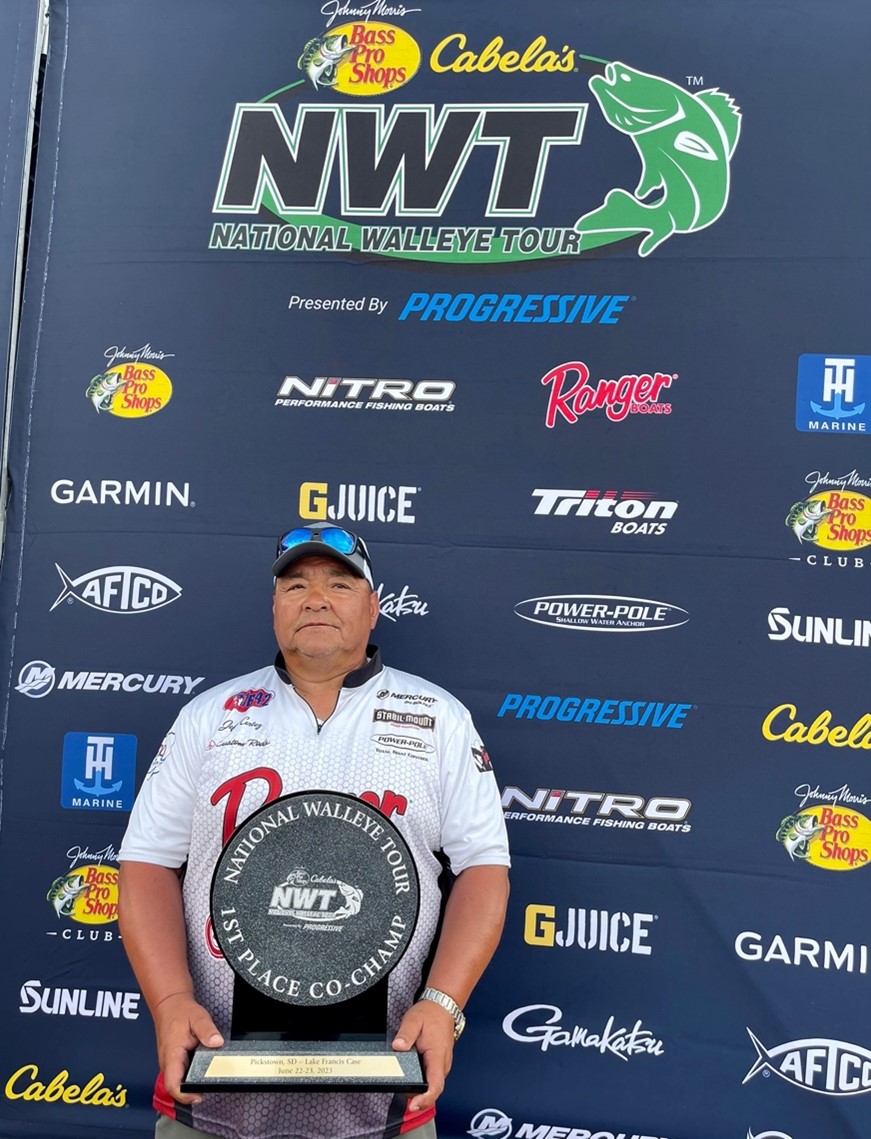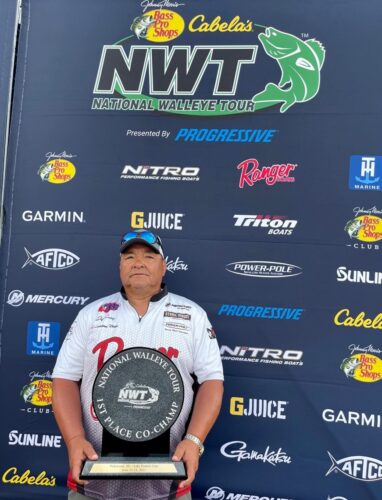 Jeff Cortez Wins Co-Angler Side
Forest Lake, MN co-angler Jeff Cortez won the Co-Angler side of the tournament on Lake Francis Case after a two-day total of 26.13, taking home $8,970 including a Ranger Cup bonus.
"Well first off I want to thank my wife for supporting me doing this, but also my great Pro-Anglers I was paired with this week', said the Ranger owner. "…both pros I drew, Brian Tordsen & Mike Defibaugh was using crawlers a variety of different ways and even I, and older angler, learned a few things this week about how to target walleyes here. It was a fun week, and I am grateful to go home with the big trophy".
The rest of the Top-10 Final Co-Anglers:
2.) DENNIS SIEVERDING-JEFFERSON, SD   25-10              $4,070
3.) FRANCIS HEAGNEY-BONESTEEL, SD     15-07              $3,070
4.) JUSTIN OSTERBERG-KILLDEER, ND                   25-04              $2,055
5.) JOSHUA JONES-ANKENY, IA                              25-04              $1,540
6.) CASEY CHRISTENSEN-EMPORIA, KS     24-11              $1,290
7.) TIM LARSON-CENTERVILLE, SD             24-01              $1,240
8.) THOMAS BLANCHARD-DETROIT LAKES, MN  23-10  $2,080
9.) JARED VON BANK-LAKE ST LOUIS, MO 23-04              $1,040
10.) MICHAEL YAREMA-PHOENIX, NY                   23-00              $1,670
The National Walleye Tour would like to thank Wagner, SD for the great hospitality this week and supporting our staff and anglers.
Final Pro-Angler results can be found here: https://outdoorteamworks.com/wp-content/uploads/2023/06/2023-NWT-Lake-Francis-Case-FINAL-RESULTS_pro.pdf
Final Co-Angler results are here: https://outdoorteamworks.com/wp-content/uploads/2023/06/2023-NWT-Lake-Francis-Case-FINAL-RESULTS_co.pdf
Additional information on the events, contingency prizes, and more exciting announcements will be shared soon. For more information on updated angler qualifications, please visit www.nationalwalleyetour.com.
About National Walleye Tour
National Walleye Tour (NWT) is part of the Outdoor Team Works family of fishing tournaments. The OTW brand offers a wide range of fishing events from professional tournaments to grassroots fishing derbies. All events are supported by some of the top companies in the nation and include on-site activation and activities, as well as extensive media support. For live updates and information, follow NWT on Facebook and Instagram or visit https://outdoorteamworks.com/ to catch up on all the action.
2023 Proud Sponsors
Bass Pro Shops, Cabela's, Progressive, Nitro Boats, Ranger Boats, Triton Boats, Mercury Marine, Aftco, Garmin, Power-Pole, TH Marine, Sunline, Gamakatsu