SPRING VALLEY, Ill. (March 23, 2023) – The Illinois River is known as an excellent sauger and an improving walleye fishery. In the early spring, it's a popular destination for Midwesterners who are sick of ice fishing. Despite its reputation as a numbers river, two giant walleyes largely determined the outcome of the 2023 Bass Pro Shops and Cabela's National Walleye Tour presented by Progressive season opener. On day one, John Hoyer, the winner of the 2022 NWT Championship, caught the fat female. On day two, river rat James "J.J." Debernardi coaxed a massive 8- pounder on his first cast. With only two additional keepers, that divine kicker was enough to lift Debernardi into the winner's circle.
Walleye fans might remember that Debernardi and Max Wilson, the winner of the 2018 NWT Championship, won the Master's Walleye Circuit team event on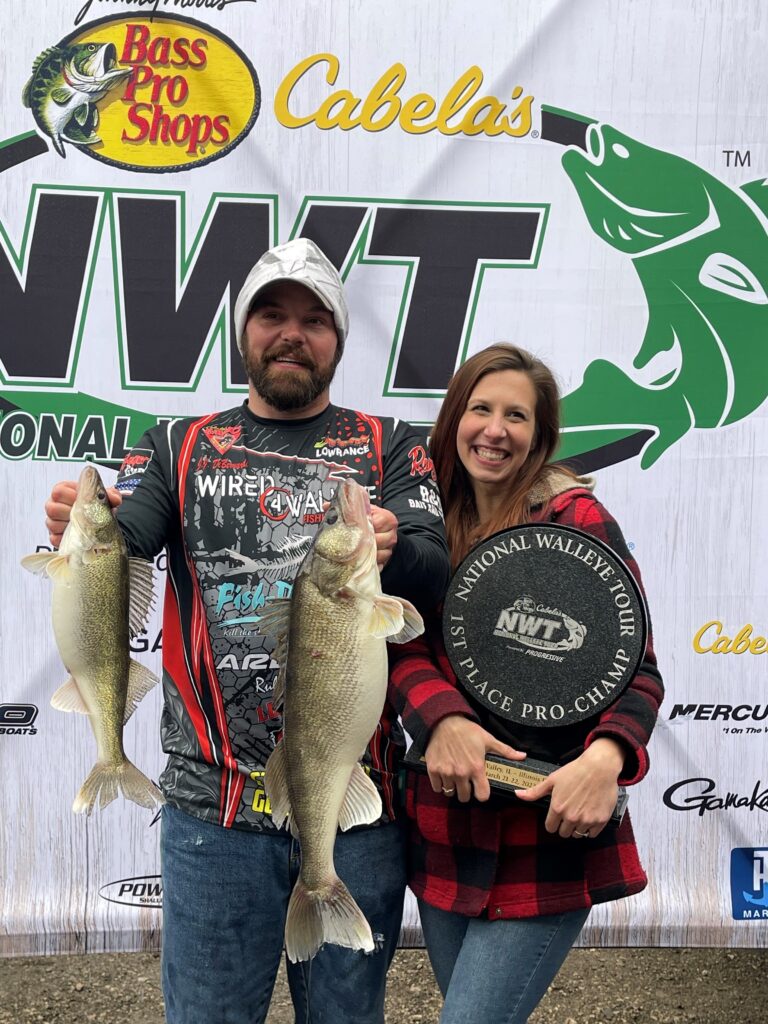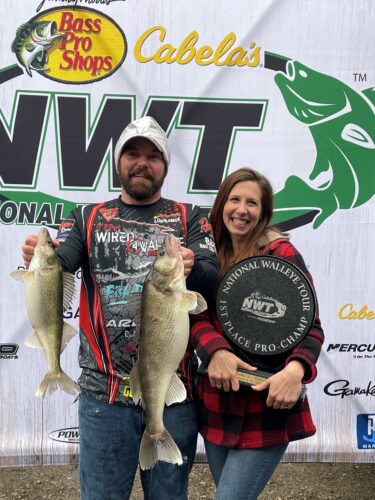 the Illinois River last year. Wilson teamed up with Debernardi as a way to honor Mike Hanson, the local guide, who passed away last year. Wilson and Debernardi felt that divine intervention took place last year, and something eerily amazing also happened this week.
"I always fished with Mike," recalled Debernardi. "We were partners for 7 or 8 years, and we learned everything we could about this river. I was on my way up to Mikey's spot this morning, but there was a barge in the way. The lockmaster said it would be an hour before he cleared out, so I pulled over to Lover's Leap right in front of the dam. On my very first cast, I caught an 8-pounder. That's just unheard of around here. I am 1,000% confident Mikey was looking over my shoulder. To catch a fish like that is beyond belief. It's mind blowing."
Even with the kicker in hand, Debernardi, who grew up in Ottawa, Ill., still wanted to lock up and visit Mike's spot. What he discovered upriver wasn't what he was hoping for.
"I caught two big ones on day one from Mikey's spot up in the Ottawa Pool. I still wanted to go, but when I got there, I realized the water had dropped almost 3 feet. When that happens, it completely shuts down the bite. They slide out in the main channel and disappear. I was able to catch one little 14-inch sauger, and that little one was big; it might have pushed me over the top."
By the time he locked back down, Debernardi only had two fish for approximately 9 pounds. With time running out, he decided to revisit the Lover's Leap spot.
"With 20 minutes to go, the lockmaster shut down gates 7 and 8, which are the most critical gates for the current. With about 2 minutes left, I had to take a leak. I handed my co-angler (Jerad Jacobs) my rod to throw a few casts before we ran back. I look over midstream, and he sets the hook. While making a mess of myself, I netted about a 3-pound walleye. We threw it in the livewell, and back to the ramp we went. The amount of divine intervention that went into this was remarkable."
While most of the field was trolling in the cool, dirty water, Debernardi was casting 3/16-ounce Half-Cocked custom jigs with Ripple Shads. White with yellow and firetiger were his two best colors.
"Subtle lifts were the ticket. I believe in keeping the bait close to the bottom at all times. Low and slow is the way to go, especially with the water being so cold. Today was the first time I saw 40 degrees on the graph in 10 days."
Moments after the winner was called, an emotional Debernardi was mobbed near the stage by family and friends in attendance.
"Me and Mikey worked real hard at learning this river. This was great, but it's not as fun without him. We had a special bond in the boat. It's very difficult to replace. As great a partner as Max is, he's not Mike; you just can't replace that. Me and Mike never won a major tournament. We have a pile of other trophies together, but we were never able to pull off that win. Aside from my wife and kids, there's nobody that I want to share this moment more with than him. Our hard work finally paid off. It's bittersweet, but I know he's looking down on me."
Debernardi's day-one weight was 11 pounds, 7 ounces, and today he improved to 11-12, despite just the three fish. He finished with a cumulative total of 23 pounds, 3 ounces. He earned a 2023 Nitro ZV20 powered by a 225-horsepower Mercury Pro XS, plus $15,000 cash and $500 for Garmin Tournament Rewards. The total prize package was worth $84,045.
"It's life-changing for me. I'm a farmer with a wife and four children. This is going to allow me to pursue more of my fishing happiness."
Hjelm Rallies to Second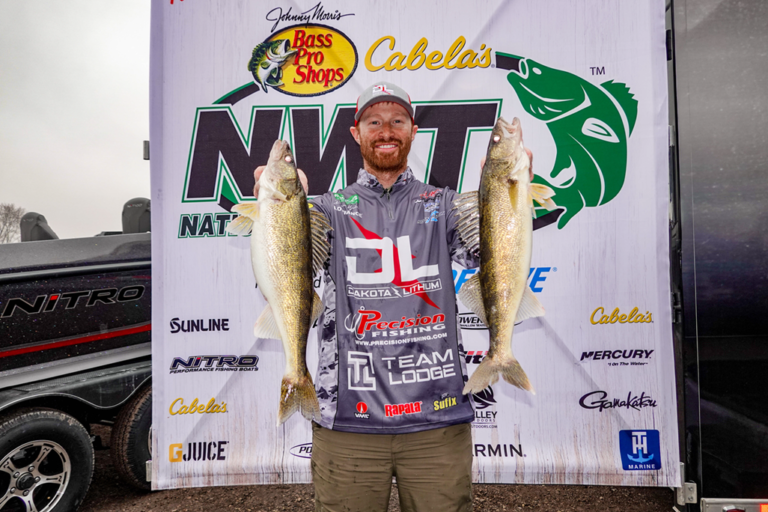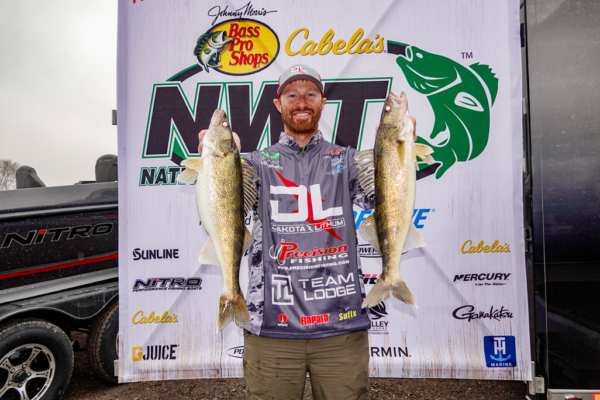 Had it not been for Debernardi's first-cast, the leaderboard at the 2023 season opener would look eerily similar to the 2022 championship – with friends Duane "Dewey" Hjelm and Hoyer at the top. As it stands, the two are still the hottest sticks in the sport. In Hjelm's last four NWT tournaments, he's placed second, second, first, and second. This was his first trip to the Illinois River, and although he experienced a rough start, it ended impressively.
"When the tournament began, I was just praying for five 15-inchers a day," said Hjelm, who finished second with 21 pounds, 14 ounces. "I was just trying to escape with some points."
The 2022 Progressive Angler of the Year had intended on playing bumper boats in a trolling area, but a good boat draw on day one convinced him to gamble.
"I opted to run up to the dam. It wasn't like I was on anything; I had caught just one nice fish up there in practice. But the more you fish it, the more you learn about it. I just kept getting bites, so I stayed."
Hjelm caught some fish jigging – including two nice 3-pounders to round out day one. He also employed the Dubuque Rig with jigs. Unlike Debernardi, he stayed in the main pool all week. The Pierre, S.D., pro said one of his key light-bite adjustments was adding a stinger hook.
"With the Dubuque Rigs, we tried all kinds of plastics. We were tipping the plastics with fathead minnows. We used a 3-foot leader with another minnow on that. For the jigs, we were using 5/8-ounce VMC jigs with bright colors."
For his second consecutive second-place finish, Hjelm earned $19,680, plus $4,128 in Angler Advantage cash and another $4,000 in Ranger Cup money.
"Everyone's ultimate goal is to win, but I really just wanted five weigh fish a day. To come out with a second-place finish, I don't know; I'm just super grateful. I don't know how I'm still on this roll. Moving forward it's going to be an exciting season."
Courts Disappointed with Third
Finishing third was Minnesotan Mark Courts. The 2015 AOY had another solid day on the Illinois River, catching a five-fish limit worth 9 pounds, 4 ounces. Combined with his 11-14 from day one, the AFTCO/T-H Marine pro finished the tournament with a total weight of 21 pounds, 2 ounces.
"This river has been good to me, but I'm disappointed with third," said Courts. "This morning, the bite was strong early, and we got our five fish quick. One of the keys to our trolling program was going super, super slow. We were moving at .5 to .6 mph trolling floating stickbaits on three ways. I was going so slow I was getting lapped by the field. I'd do one lap, and they'd do two."
Orange was one of the dominant crankbait colors, but Courts found success with white-style baits.
"Chartreuse and white, pink and white and blue and white were my best colors. I got a limit every morning on my first pass, and we caught 12 to 15 legal fish a day. I just needed a couple more bigger bites."
Hoyer Slips to Fourth, Vivian Rallies to Fifth
Rounding out the top five are Hoyer and Roy Vivian. Hoyer, the two-time NWT Championship winner, managed another limit, but there were no unicorn kickers. His five fish Wednesday weighed 8-1. Combined with his 12-15 from day one, the Ranger Boats pro finished the tournament fourth overall with a total weight of 21 pounds even.
"I'm thrilled with fourth," said Hoyer, who led after day one. "When I think about the Angler of the Year race ahead of us, I couldn't be happier."
Hoyer said the key to his tournament was his electronics, but not forward-facing sonar.
"The No. 1 thing was going old school with side scan. We could identify the walleyes and saugers, and there were enough boats around to see the feeding windows."
Today, Hoyer said his fish flushed out to the middle of the channel in 18 to 20 feet.
"I was trolling floating stickbaits with bright colors. I was running a 15-inch dropper and 45-inch leaders on my three ways. We were keeping it super tight to the bottom. You could see they were just barely wobbling."
Vivian, the McFarland, Wis., native, managed limits of 8-1 and 12-13. His day-two stringer was the heaviest of the entire tournament. Vivian finished fifth with a cumulative weight of 20 pounds, 14 ounces.
Rest of the best
Rounding out the top 10 pros at the NWT event on the Illinois River:
6th: Kevin McQuoid of Isle, Minn., ten fish, 19-6
7th: Justin Schneider of Malone, Wis., ten fish, 19-4
8th: Chasen Rockstead of Shannona, Ill., ten fish, 19-3
9th: Brian Bashore of Sioux Falls, S.D., ten fish, 18-0
10th: Ryan Dempsey of Green Bay, Wis., ten fish, 17-15
To see full results, click here: https://www.nationalwalleyetour.com/2023-nwt-spring-valley-il-illinois-river-results/
Up next
The NWT ventures north for its second event of the 2023 season, held May 17-18 on Lake Winnebago in Oshkosh, Wis. Cut-off registration for that event is May 5th, anglers can still register through this link: https://www.nationalwalleyetour.com/national-walleye-tour-register/
National Walleye Tour would like to thank the city of Spring Valley, IL, the Spring Valley Boat Club, and the Spring Valley Fishing Club for hosting the first event of the 2023 season.
About National Walleye Tour

National Walleye Tour (NWT) is part of the Outdoor Team Works family of fishing tournaments. The OTW brand offers a wide range of fishing events from professional tournaments to grassroots fishing derbies. All events are supported by some of the top companies in the nation and include on-site activation and activities, as well as extensive media support. For live updates and information, follow NWT on Facebook and Instagram or visit www.nationalwalleyetour.com to catch up on all the action.
2023 Proud Sponsors

Bass Pro Shops, Cabela's, Progressive, Nitro Boats, Ranger Boats, Triton Boats, Mercury Marine, Aftco, Garmin, Power-Pole, TH Marine, Sunline, Gamakatsu