Heiser in Second and Lakich in Third
SAULT STE. MARIE, MI (July 27, 2023) – Day One of The Bass Pro Shops & Cabela's National Walleye Tour (NWT) presented by Progressive on St. Mary's River in Sault Ste Marie, MI belongs to Power-Pole & Mercury Pro-Angler Max Wilson!
Day-1 of the final regular season stop of the Bass Pro Shops & Cabela's National Walleye Tour presented by Progressive on the St. Mary's River started out with a two-hour fog delay. But once the tournament director, Jeff Kelm, gave the call for safe fishing conditions, anglers scrambled to their spots and even some still made the gamble to make a long run.
"It was a good day for us, it started out quick and heavy, but I was in pre-fish mode by 11:00. I thought I would have to play defense in the few key areas I found I practice, but luckily, I am alone', said the Wisconsin Pro. "My co-angler [Tyler Kroupa] helped us out today, catching a few key fish, including a 6-pounder that helped our bag a lot."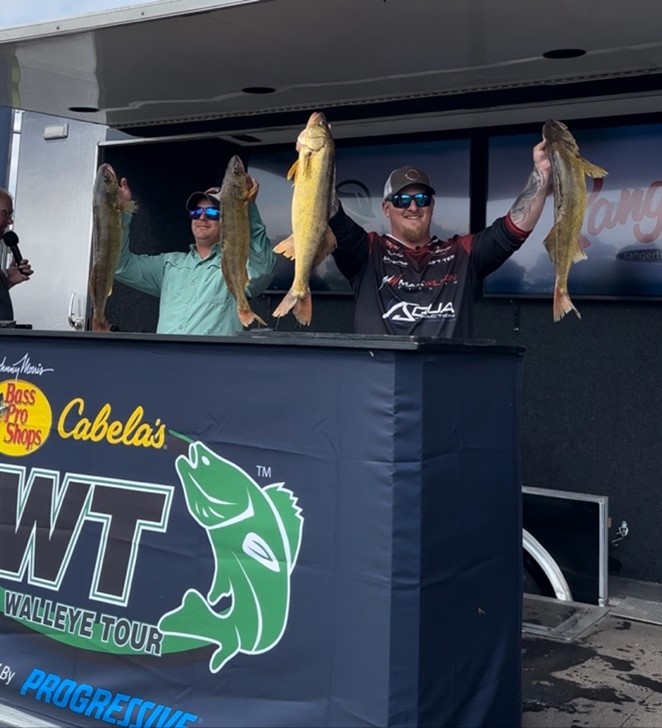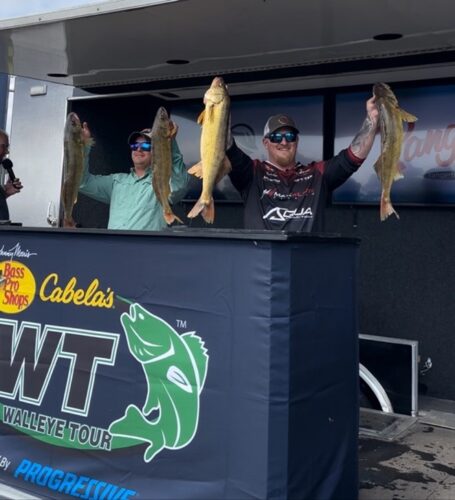 Max is no stranger to strong finishes in the National Walleye Tour, having been in contention to win 8 of the last 12 tournaments that he is fished, but a "W" with the NWT still eludes him.
"I stayed calm all day and felt good about it, even with the fog delay. But, I've got to get it done tomorrow. I have always struggled on Day-2 and it has cost me a few tournaments. On top of that, in 2019 I lost Angler of the Year here at the SOO. I have a chip on my shoulder at this place, I need to prove this to myself that I can win one of these. My travel partner, JJ Debernardi, won at the beginning of the year, and I want one of those trophies bad."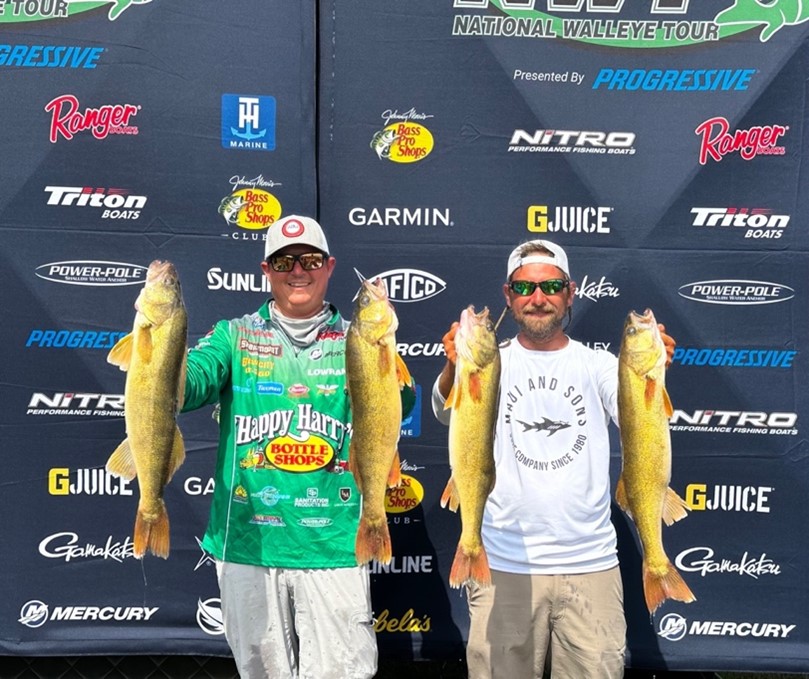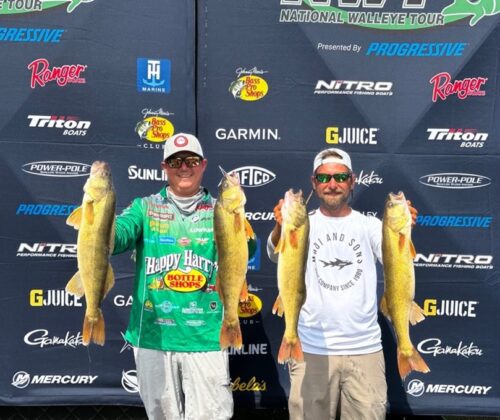 Ranger/ Mercury Pro-Angler Corey Heiser in Second with 28.03
"Today just went absolutely better than I could have hoped for, that delay this morning had me worried, but an early morning flurry really set the tone for a great day," said the Ranger Pro-Angler from South Dakota. Corey said that he predicts need his same weight, and maybe a little better to have a chance at the win tomorrow.
"This place is really humbling and hard to get a bite here. So, when you can catch a bag like we did today, it is very rewarding, especially after a long season."
Corey wanted to give a shout out to his great sponsors, but especially his wife Tera back home and his son Connor for traveling with him at this event.
"To win one of these…..would mean a lot, especially for my family and my sponsors so I am looking forward to getting back out there again tomorrow."
Third Place belongs to Garmin Pro-Angler Isaac Lakich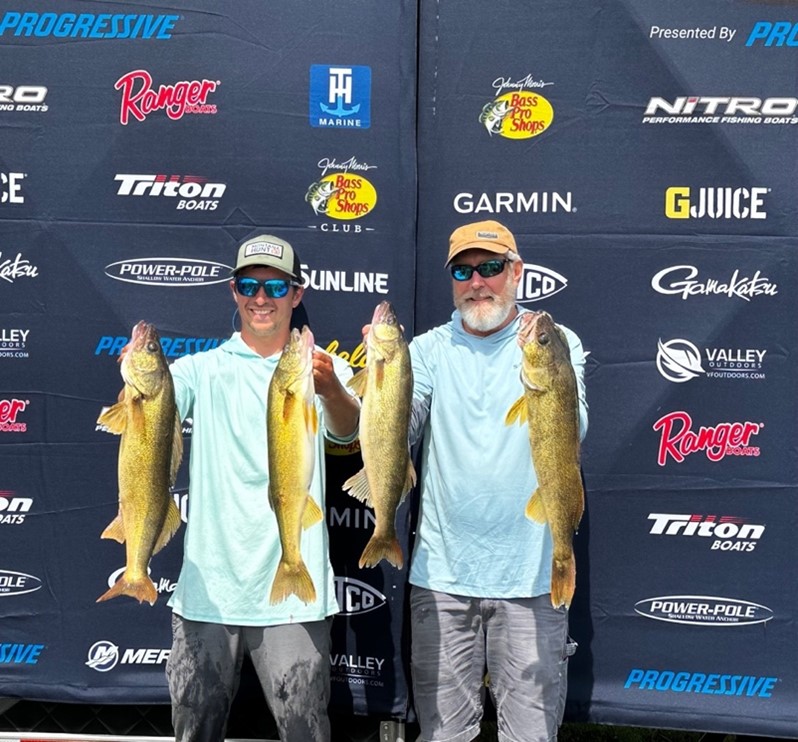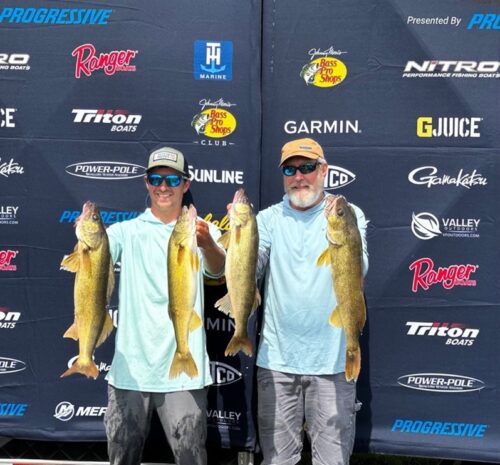 After Day 1 of the event at the SOO on the St. Mary's River, National Walleye Tour Pro-Angler Isaac Lakich finished the day in third place with 26.04. After making a long run powered by his Mercury motor, he reported the fog delay really did not affect him much which resulted in a bigger bag than he expected.  He said he was depending on his Garmin LiveScope all day while fishing patiently.
"Today was awesome, honestly the delay was a blessing for me, and it worked out in my favor. So, anything I can catch tomorrow in the early morning will be a bonus for me', reported the Wisconsin pro. "A longer day tomorrow will allow me to really leave everything out there on the water and finish strong in this thing. Having opportunities like this are just a blessing".
The Rest of The Top Ten After Day 1 on the St. Mary's River:
4.) John Hoyer        Wayzata, MN         24.02
5.) Owen Wilcox     Laurel, MT             21.13
6.) Matthew Dubs   Auburn, MI             21.03
7.) Justin Schneider  Malone, WI            20.11
8.) Eric McQuoid        Kewaunee, WI       20.10
9.) Jacob Ell               Bismarck, ND        20.06
10.) Drake Herd      Alexandria, MN       20.03
Day 1 Pro-Angler results can be found here: https://outdoorteamworks.com/wp-content/uploads/2023/07/2023-NWT-Sault-Ste-Marie-Results-Day-1_pro.pdf
Day-1 leading Co-Angler is Tyler Kroupa with 33.03
Full Co-Angler results from Day 1 are here: https://outdoorteamworks.com/wp-content/uploads/2023/07/2023-NWT-Sault-Ste-Marie-Results-Day-1_co.pdf
Additional information on the events, contingency prizes, and more exciting announcements will be shared soon. For more information on updated angler qualifications, please visit www.nationalwalleyetour.com.
About National Walleye Tour

National Walleye Tour (NWT) is part of the Outdoor Team Works family of fishing tournaments. The OTW brand offers a wide range of fishing events from professional tournaments to grassroots fishing derbies. All events are supported by some of the top companies in the nation and include on-site activation and activities, as well as extensive media support. For live updates and information, follow NWT on Facebook and Instagram or visit https://outdoorteamworks.com/ to catch up on all the action.
2023 Proud Sponsors

Bass Pro Shops, Cabela's, Progressive, Nitro Boats, Ranger Boats, Triton Boats, Mercury Marine, Aftco, Garmin, Power-Pole, TH Marine, Sunline, Gamakatsu