Calliham, TX (June 3, 2023)- The 2023 Bass Pro Shops/ Cabela's Texas Team Trail presented by Progressive Championship has completed day one.  The top qualifying teams faced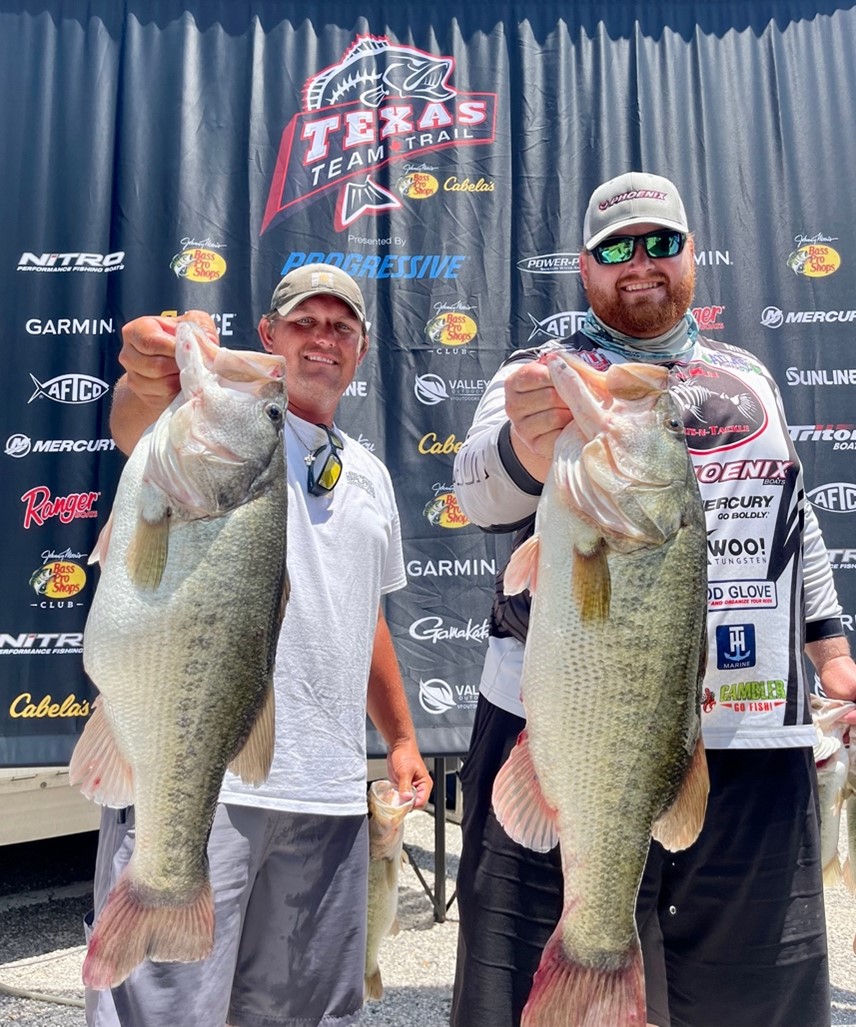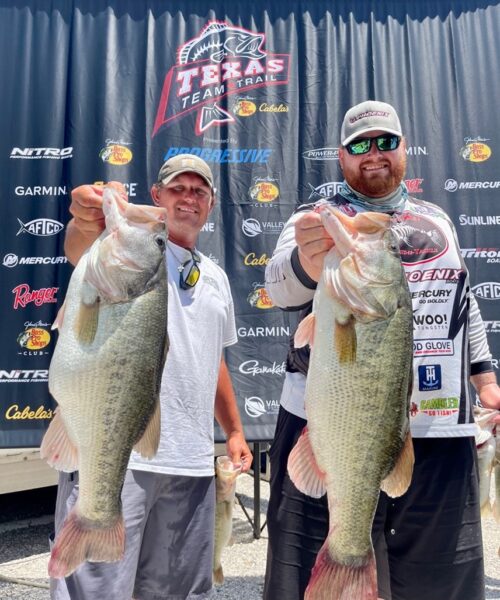 unexpected tough fishing conditions that included, bright blue skies, little to no wind, and hot Texas temperatures. When the scales closed after day one, the leading team had brought in a five fish limit weighing 24.11 pounds.   That team is Austin Miles & Jacob Keith who have a lead of slightly more than four pounds over second place.
"We expected to catch a pretty decent bag after the practice we had. Everything started out right this morning with a quick limit in an area we know holds a lot of keeper", said Mercury angler Austin Miles. His partner, Jacob Keith went on to report, "When the sun popped out and the wind died, we made a long run down the lake fishing off the bank and were able to upgrade". Austin also said the majority of the teams quality fish came catching them on his Garmin LiveScope, including the unofficial Power-Pole Big Fish that weighed 9.04.
"It was truly a dream day, my partner and I both caught a big one and things just fell into place. We know this lake has a much bigger sack swimming around in it, so tomorrow we are going out with the same mindset to fish clean and put as many keepers as we can in the boat," Austin said.
The two-day 2023 Texas Team Trail Championship winner on Choke Canyon Reservior has a potential to cash in on over $45,000 in cash and prizes for winning the event as well as earn points towards all the prizes for the Progressive Team of the Year payout that will also be awarded at the conclusion of the event.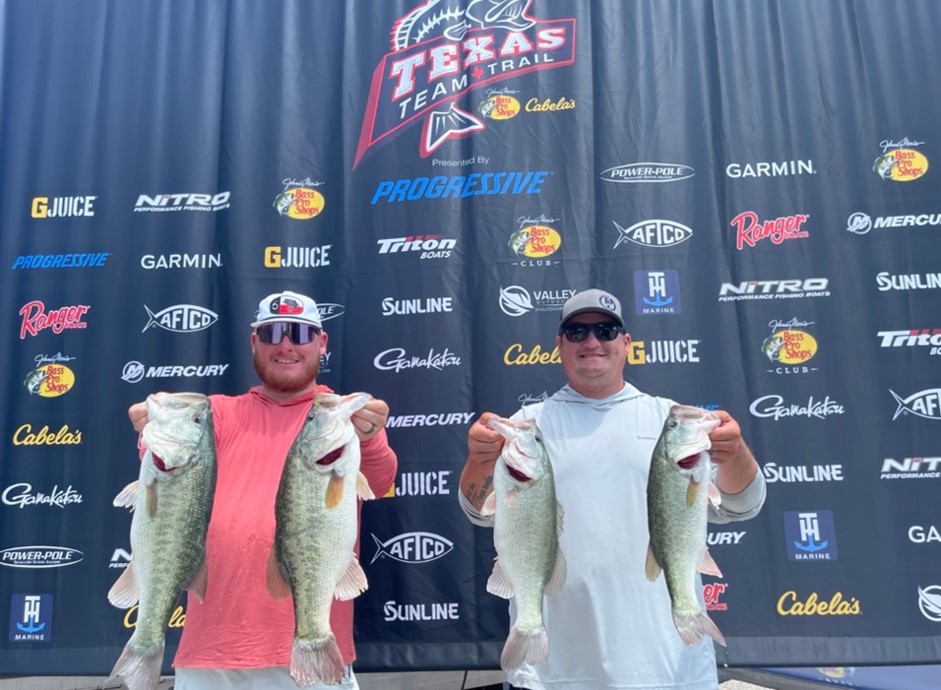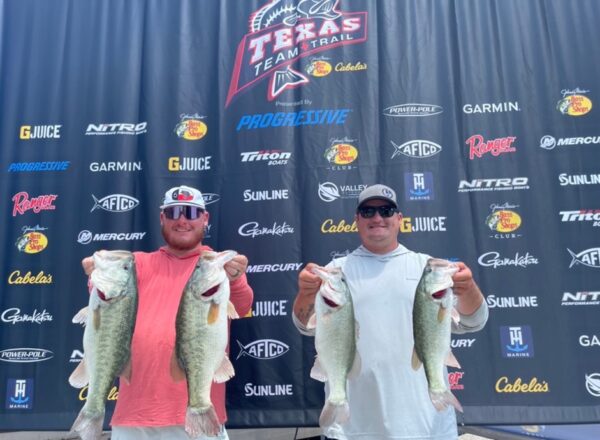 Drake & Parsons Bring in 20.06 for Second Place
Second Place after Day 1 of the 2023 Texas Team Trail Championship on Choke Canyon Reservior belongs to Zane Drake & Logan Parsons after weighing in a five fish limit totaling 20.06.
"This was not the day we expected, we left the dock thinking we could have 14 to 15 if we got the right bites. But today just went our direction and we are very blessed," said Triton/ Mercury angler Zane Drake. The team also reported struggling the first few hours but junk fishing in the afternoon they were able to catch six keeper bites to give them their Day 1 weight.
"We caught them a little different than we did in practice, the water seemed to clean up a little more today and we were able to excel on one particular bait that we only had one of and lost. Needless to say [laughing] we are headed to Bass Pro Shops right now in San Antonio to get some more,'' said Parsons.
Third Place Garrett Dokter & Courtney Hobgood
Texas Team Trail anglers Garrett Dokter and Courtney Hobgood finished Day 1 of the 2023 Championship rounding out the Top-3 with a limit of Choke Canyon Reservior bass weighing 18.05 leaving them just over six pounds behind the leader, but Choke Canyon has a history of kicking out big limits so anything is possible on Day Two.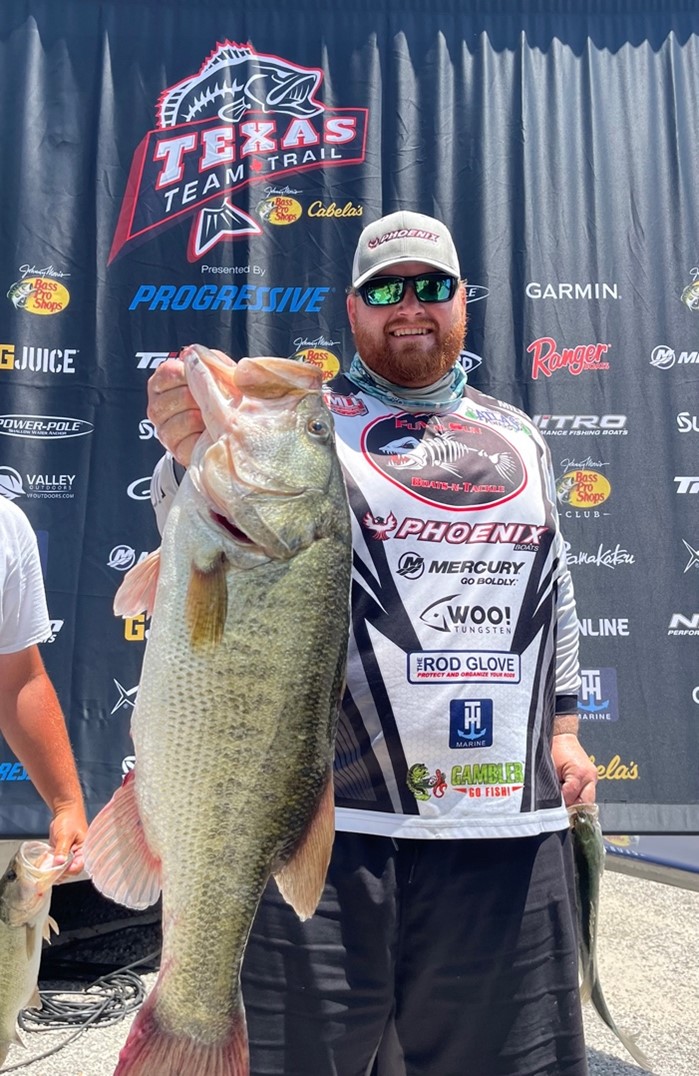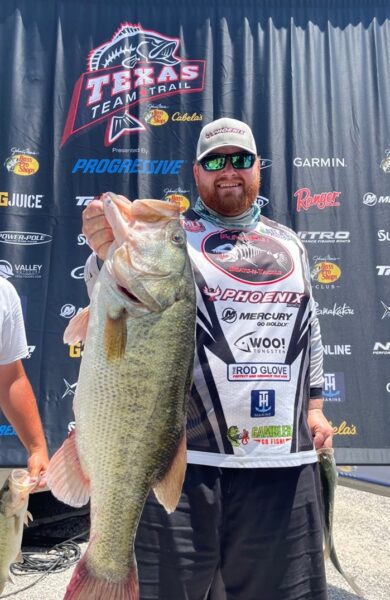 The leader of the  Power-Pole Big Bass Award after Day 1 is Austin Miles.
4th-10th Day 1 Results:
4th: KEVIN ALLEN & BRANDON BROSSETT- 17.10
5th: EDWARD NORRIS & STEVEN FOSTER- 16.03
6th: JAKE GOODRUM & JOSEPH GOODRUM- 15.10
7th: SETH FURMANEK & ROBERT KETTNER- 15.00
8th-Tie: DAVE REDINGTON & CHAD MCCLENDON- 14.11
8th-Tie: SETH KELM & JAMES WILLIAMS- 14.11
10th: KURT LUKER & JASON STOVALL- 14.10
Official 2023 Bass Pro Shops & Cabela's Texas Team Trail presented by Progressive Championship Day 1 Results: https://outdoorteamworks.com/wp-content/uploads/2023/06/2023-TXTT-Championship-Choke-Canyon_Day-1-Results.pdf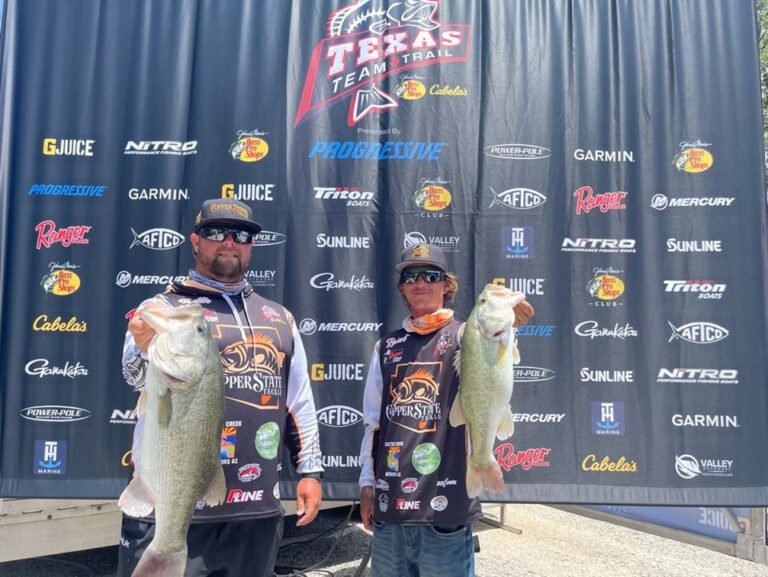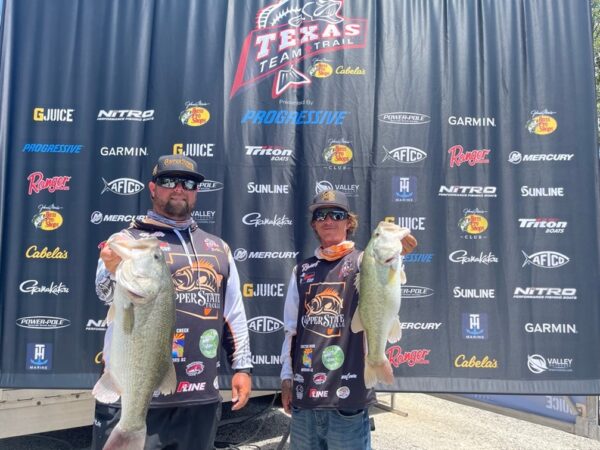 Progressive Team of the Year Race Heating Up but Cecil and Castledine still lead.
After Day 1 of the 2023 Texas Team Trail Championship, the second place team going into the event of Seth Furmanek & Robert Kettner gained a few places on the Team of the Year leaders Russell Cecil & Todd Castledine. Furmanek & Kettner finished Day 1 sitting in 8th place with 14.11. But Cecil & Castledine are sitting in the Top-20 after finishing Day 1 in 11th with 14.07. Tomorrow will decide who will be crowned the 2023 Progressive Team of the Year and it is a tight race!
Current 2023 Progressive Team of the Year Standings: https://outdoorteamworks.com/trail/txtt/team-of-the-year/
About Texas Team Trail
Texas Team Trail is a part of the Outdoor TeamWorks family of fishing tournaments. The OTW brand offers a wide range of fishing events from professional tournaments to grassroots fishing derbies. All events are supported by some of the top companies in the nation and include on-site activation and activities, as well as extensive media support.  For additional live updates and information, follow TXTT on Facebook and Instagram.
2023 Proud Sponsors
Bass Pro Shops, Cabela's, Progressive, Nitro Boats, Ranger Boats, Triton Boats, Mercury Marine, Aftco, Garmin, Power-Pole, TH Marine, Sunline, Gamakatsu