SPRINGFIELD, Mo. (April 22, 2023) — The 2023 Bass Pro Shops/ Cabela's Texas Team Trail presented by Progressive visited Lake Ray Roberts for the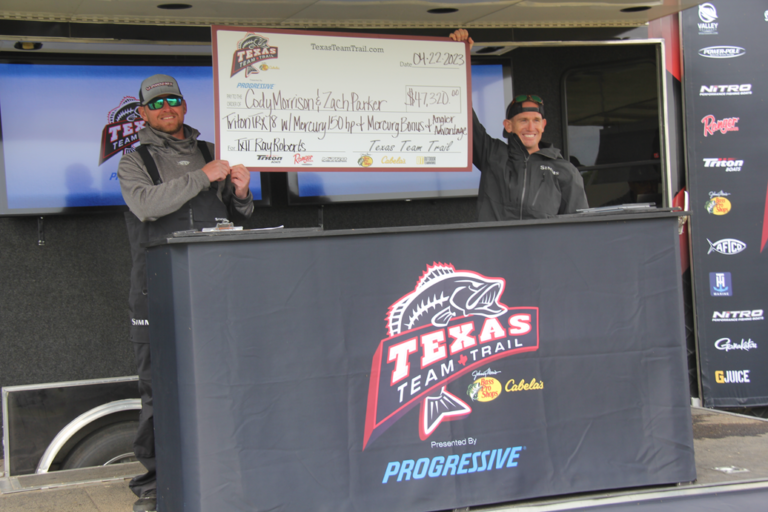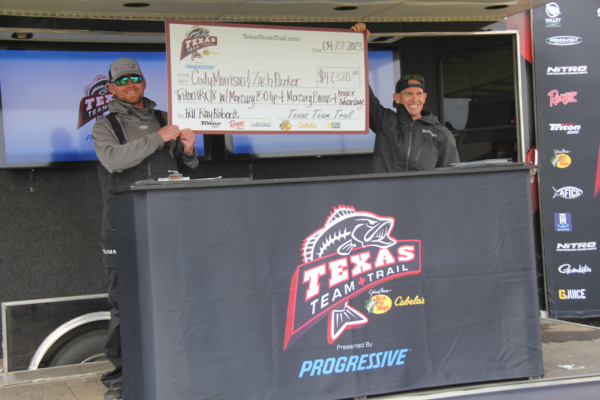 third stop of the season. Anglers were met with weather challenges and spawning springtime conditions. When the dust settled, local anglers Cody Morrison & Zach Parker brought to the scales 27.01 to claim the victory and walk away with over $47,320 in cash and prizes including a 2023 Triton TRX18 powered by a Mercury 150hp Pro XS.
"Today was all about fishing an area we had a lot of confidence in and grinding out the winning limit," said Mercury angler Cody Morrison. "We knew there was quality fish in the area spawning, and although the water was too dirt to sight-fish, we stayed shallow throwing Texas-Rigged soft plastics to do our damage". Cody and Zach reported that the area they fished was protected from the wind and produced nine keeper bites throughout the day. "We knew we had a shot coming into weigh-in but now that's official its truly surreal to walk away the winners", said team partner Zach Parker. "We had a lot of family here supporting us for this one, so it really came together better than we could have imagined".
Cody Morrison also claimed the $1,000 Mercury Bonus for his win.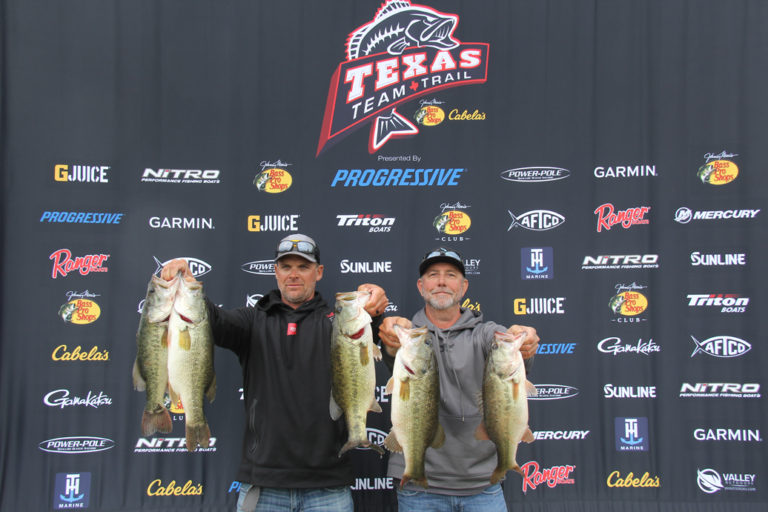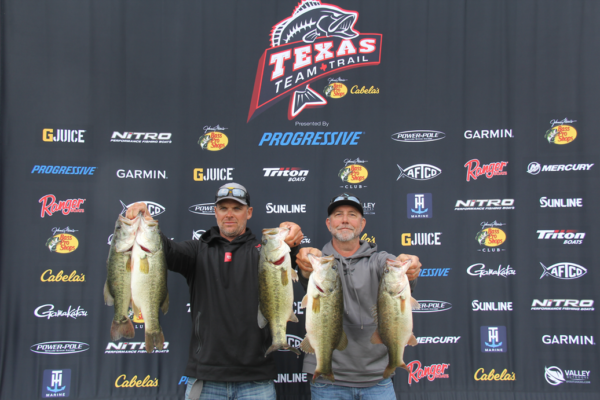 Russell Cecil and Todd Castledine Take Second Place
Russel Cecil and Todd Castledine are no strangers to winning and success in the state of Texas.
Their five-fish limit on Lake Ray Roberts weighed in at 23.11, good enough for second place and claimed the $500 Garmin Contingency Bonus. "I am not sure if were catching fish spawning or still staging but we junk fished areas throughout the day we knew would be key spawning areas and were able to catch the weight we did," said T-H Marine angler Todd Castledine. "We mostly relied on trying to target fish a little deeper in the water column. Our better-quality bites seemed to come on soft plastics earlier in the day before the wind picked up," said angler Russell Cecil.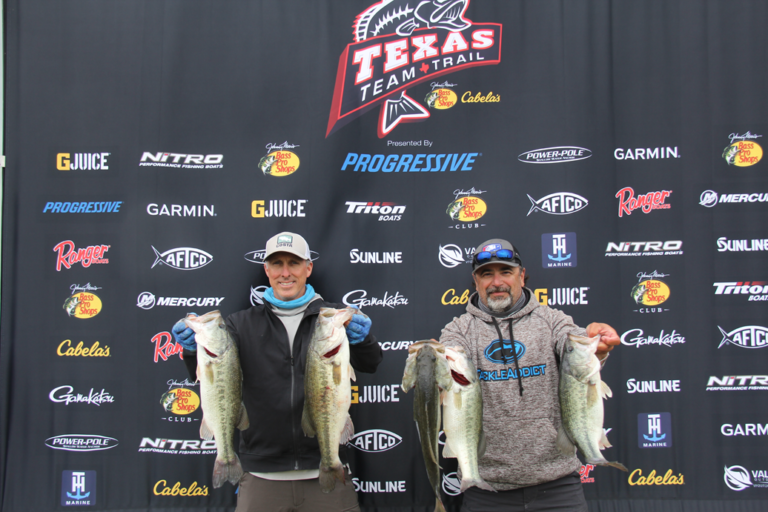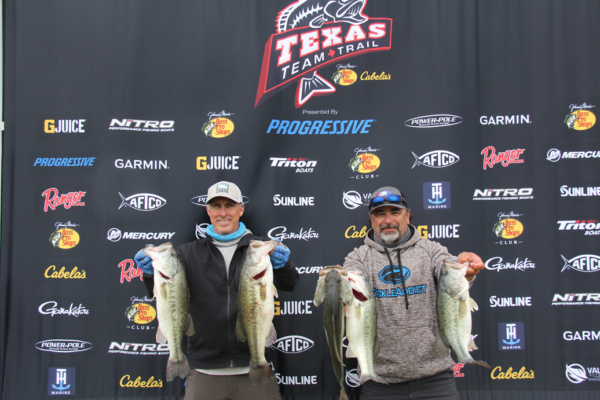 Third Goes to Pantell & George
Nick Pantell & Kenny George, like the first and second place teams relied on soft plastics and Texas-Rigged baits to capture their third-place finish with a final weight of 23.02. The team said in the final interview that, "although we didn't get a lot of bites, the bites we got what were needed. We were very fortunate throughout the day as things happened unexpectedly, but they paid off."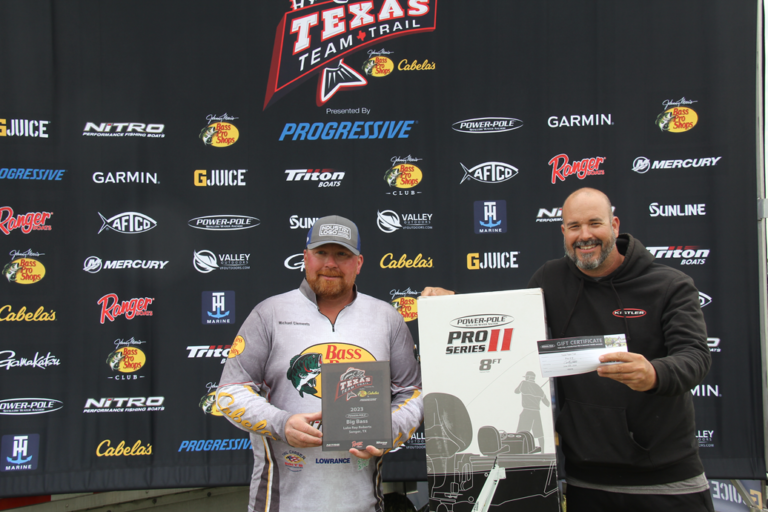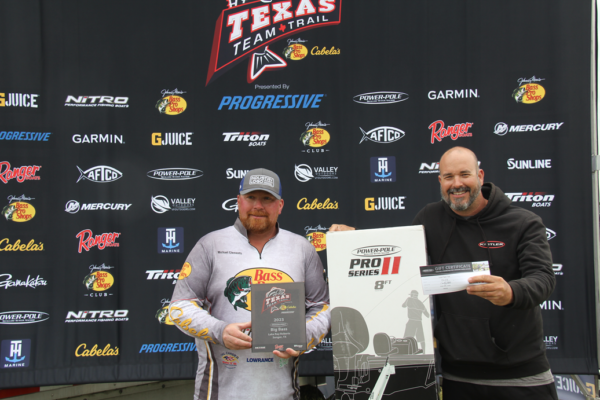 Power-Pole Big Bass winner went to team Nitro/ Bass Pro angler Michael Clements & BJ Tarr
4th-10th place team results:
4th: Michael Clements & BJ Tarr- 22.10
5th: Nathan Sprabary & Billy Young- 22.04
6th: Garrett Dokter & Courtney Hobgood- 21.10
7th: Bo Fea & Wyatt Withers- 21.05
8th: Branden Hollingshead & Jeremy Lambert- 19.08
9th: Kelly Mauldin & James Cantwell- 19.06
10th: Tommy Murray & Keith Ivy- 18.10
The next stop of the 2023 Bass Pro Shops & Cabela's Texas Team Trail presented by Progressive is at Richland Chambers in two weeks on May 6th. REGISTRATION IS STILL OPEN and anglers can visit the link to register: https://outdoorteamworks.com/trail/txtt/registration/
Official results are located through this link: https://outdoorteamworks.com/trail/txtt/results/
About Texas Team Trail
Texas Team Trail is a part of the Outdoor TeamWorks family of fishing tournaments. The OTW brand offers a wide range of fishing events from professional tournaments to grassroots fishing derbies. All events are supported by some of the top companies in the nation and include on-site activation and activities, as well as extensive media support.  For additional live updates and information, follow TXTT on Facebook and Instagram.
2023 Proud Sponsors
Bass Pro Shops, Cabela's, Progressive, Nitro Boats, Ranger Boats, Triton Boats, Mercury Marine, Aftco, Garmin, Power-Pole, TH Marine, Sunline, Gamakatsu