By Brett Carlson
WAGNER, SD (June 15, 2023) – With two springtime tournaments in the books, the Bass Pro Shops and Cabela's National Walleye Tour presented by Progressive, is heading west as both the temperature and the competition heat up. The season's third qualifying event takes place June 22-23 on Lake Francis Case, a 100,000-acre Missouri River impoundment. While the NWT has visited Francis Case each of the last two seasons, this year's event is launching out of the southern end in Pickstown, S.D. This is favorable news as many of the walleyes spawn near the Fort Thompson Dam and then migrate south as the summer heat seizes the prairie.
Currently sitting in third place in the Progressive Angler of the Year race is South Dakota native Duane Hjelm. The Ranger Boats & Mercury pro is pleased with his current position as the schedule makes a major seasonal shift.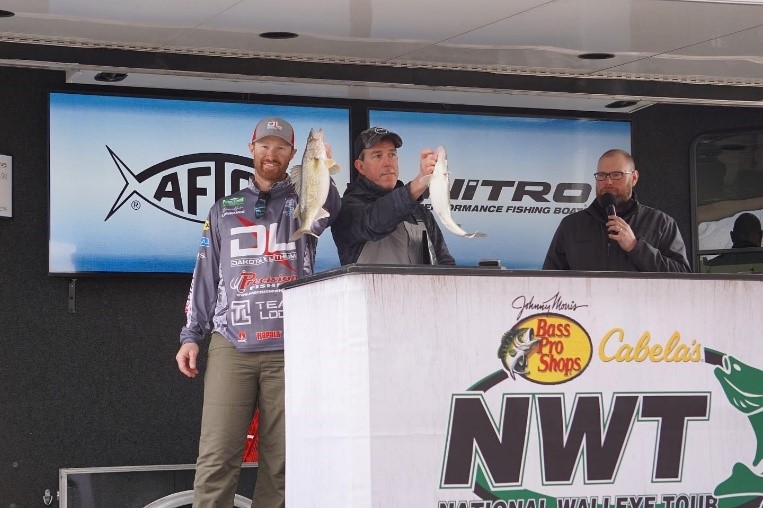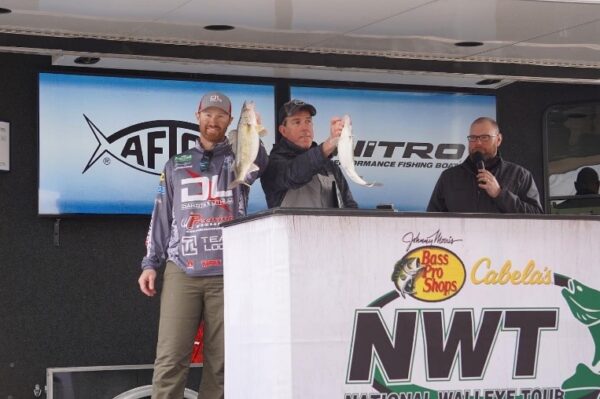 "This is one of the turning points in the season," said Hjelm, who won his first AOY in dramatic fashion last season. "The spring swing is over, and I'm super pumped with where I'm sitting. Spring Valley went way better than I ever could have expected. At Winnebago, I wasn't on anything great, but I figured some stuff out and salvaged some good points. Now it's summertime, and summertime is kind of my style.
"Francis Case is not my home water, but it's a reservoir, so it fishes like Oahe, my home body of water. There's definitely going to be fish on the southern end. As the water warms, the fish slip back down to the deepest, coolest water, which is located down on that end."
While Hjelm doesn't fish this particular stretch of the Missouri River often, fellow South Dakota pro Brian Bashore does. Bashore, who runs The Walleye Guys Guide Service, sits 17th in the Progressive Angler of the Year race.
"Catching is not the problem on Francis Case," quipped Bashore. "Everybody should be bringing in limits. If you don't have a limit, it's not because you didn't catch them; it's because you threw them back. On this lake, there is a 15-inch minimum, and only two over 20 (inches) are allowed. Culling is not allowed, so it's not uncommon to see people throwing back fish. People typically only keep 15s, 16s and 17s if it's the last hour of the day."
Both Bashore and Hjelm agree that a variety of presentations will be in play.
"A lot of the deeper stuff will be popular," explained Bashore. "People will be trolling crankbaits with leadcore and bottom bouncing spinners and crawlers along main lake points. Shad is the main forage base, so your Flicker Minnows, Shad Raps and Flicker Shads will be popular. Guys will also do some rigging with live bait. Slow Death was invented here on the Missouri River, and it's still popular around here."
While the water temperature is already in the mid 70s, a shallow bite isn't out of the question.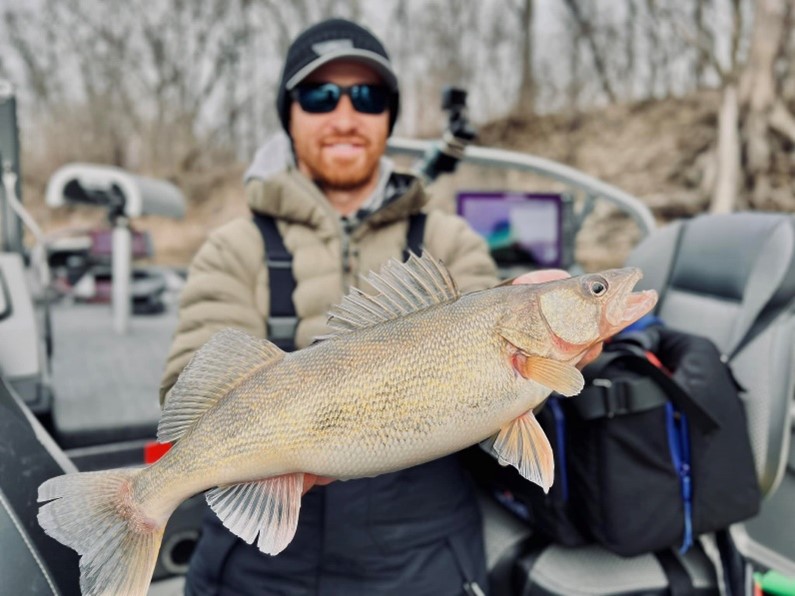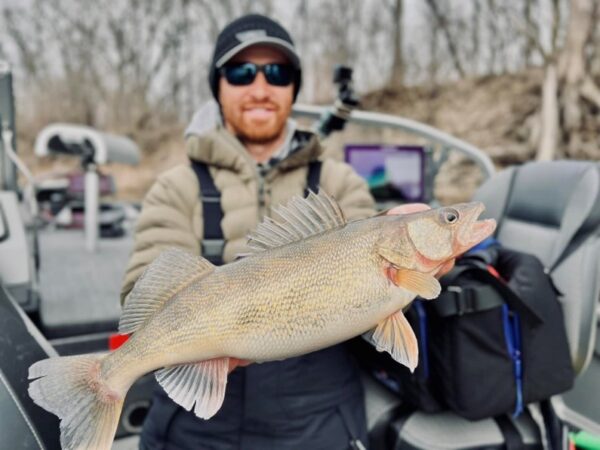 "There are definitely some fish that stay shallow all year long," explained Hjelm. "When I'm talking shallow, I still consider 12 to 15 feet shallow. They are up feeding on the young of year baitfish. If I can help it at all, I'm not going to be fishing deep, but my trolling rods and my jig rods are definitely packed. That's the great thing about this tournament; you should be able to fish your strength. Whatever you like doing, you can catch fish that way."
While Francis Case stretches over 100 miles, neither Bashore nor Hjelm believe mega-runs are necessary.
"With this tournament being in the summer, it will help spread out the field," added Bashore. "Launching from the south, there is over 50 miles of fishable water. However, if we get a north or south wind, it can get rough."
"To me, the huge runs are not worth the gamble," Hjelm said. "To make a 50-mile run, that's not out of the question. There will be some people that run north of Platte."
Kickers can be hard to come by, but fish in the 4- and 5-pound class will hit the scale.
"There will be patterns that catch big fish more consistently," Hjelm continued. "But in my mind, 26-, 27- and 28-inch fish are lottery fish. They exist, but that's not what I'm expecting to catch. Most of the overs are between 21 and 24 inches."
Hjelm is hoping to discover a big-fish pattern that involves casting and reading his forward-facing sonar.
"If at all possible, I want to cast to the fish. With those casting patterns, I'm always watching them on my sonar and not just because it's fun watching them eat it. You just learn so much about fish behavior. You figure out what their mood is, and everything is accelerated. I think it definitely can be done; I plan on using it."
To win the two-day tournament, Bashore believes around 30 pounds will be necessary.
"It's hard to average 15 pounds. I think 32 is the most it will take," he concluded. "It's taking 14 to 16 pounds in the local one-day tournaments."
"I think 32 pounds will win," echoed Hjelm. "It's going to be a game of ounces, and you're going to be handling a lot of fish."
133 Pro-Anglers and 133 Co-Anglers are signed up to fish next week in Pickstown, SD. Pro-Anglers will be competing for $15,000 cash plus a new 2023 Ranger 620FS powered by a 250 Mercury Pro XS valued at $89,995 plus FRT & Prep. Co-Anglers will be competing for a top prize of $7,500 cash.
Anglers will take off each day at 7 a.m. Central time (or safe light) from the Prairie Dog Bay ramp, located on Northern Pike Road in Lake Andes. The daily weigh-ins will also take place at the Prairie Dog Bay ramp, beginning at 3 p.m. The full field fishes each day with the winner in each division being determined by the heaviest cumulative weight.
About National Walleye Tour
National Walleye Tour (NWT) is part of the Outdoor Team Works family of fishing tournaments. The OTW brand offers a wide range of fishing events from professional tournaments to grassroots fishing derbies. All events are supported by some of the top companies in the nation and include on-site activation and activities, as well as extensive media support. For live updates and information, follow NWT on Facebook and Instagram or visit https://outdoorteamworks.com/ to catch up on all the action.
2023 Proud Sponsors
Bass Pro Shops, Cabela's, Progressive, Nitro Boats, Ranger Boats, Triton Boats, Mercury Marine, Aftco, Garmin, Power-Pole, TH Marine, Sunline, Gamakatsu