SPRINGFIELD, MO. (June 15, 2023) – Outdoor TeamWorks is proud to announce that team members Travis Loyd & Brien Vaughn will represent Bass Pro Shops & Cabela's Texas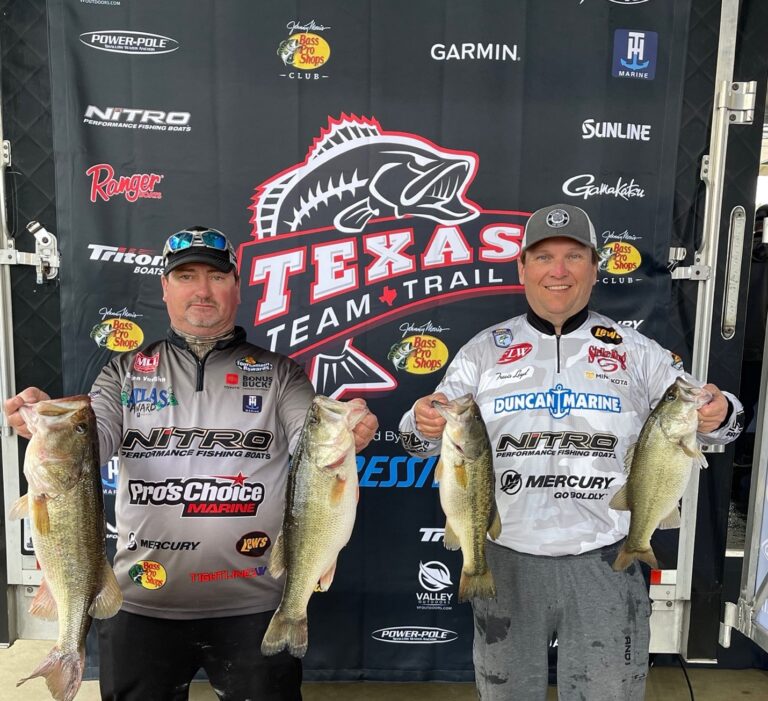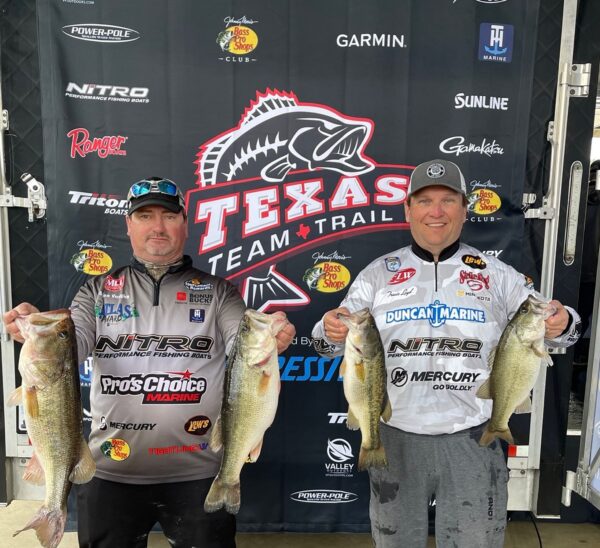 Team Trail presented by Progressive and White River Marine Group at the 2023 Bassmaster Team Championship on the Harris Chain of Lakes in Leesburg, Fla. this December. At this exclusive event, the duo will compete against the top teams from other tournament team trails across the country. In addition, they will be competing for a spot in the 2024 Bassmaster Classic.
At the beginning of the season, Texas Team Trail announced that the White River Marine Group team with the highest points in 2023 Progressive Team of the Year standings would be eligible to fish in the Bassmaster Team Championship. At the conclusion of the 2023 Texas Team Trail Championship on Choke Canyon Reservoir, Loyd and Vaughn finished fourth in the Team of the Year standing and the highest eligible White River Marine Group team.
"I have been a White River Marine Group owner for almost two decades, and it is not just me – my whole family has a deep loyalty to the products. My Nitro Z-21 powered by a Mercury Pro XS is one of the finest pieces of equipment on the water and I think every angler should consider owning one," said Loyd. "Brien and I are truly honored to go represent the best team tournament trails in the entire nation, and to have a shot at qualifying for the Classic is a dream come true that would not have been possible without White River Marine Group and Texas Team Trail."
Loyd's team partner Vaughn also said, "We wanted to qualify for this all year, and it wasn't easy. At one point I thought we had let it slip through our fingers. December cannot get here fast enough, and I am ready to get down to Florida and carry the momentum we have had all year."
The Bassmaster Team Championship hosts top teams from 62 trails across the U.S.
About Texas Team Trail
Texas Team Trail is a part of the Outdoor TeamWorks family of fishing tournaments. The OTW brand offers a wide range of fishing events from professional tournaments to grassroots fishing derbies. All events are supported by some of the top companies in the nation and include on-site activation and activities, as well as extensive media support.  For additional live updates and information, follow TXTT on Facebook and Instagram.
2023 Proud Sponsors
Bass Pro Shops, Cabela's, Progressive, Nitro Boats, Ranger Boats, Triton Boats, Mercury Marine, Aftco, Garmin, Power-Pole, TH Marine, Sunline, Gamakatsu