SPRING VALLEY, Ill. (March 21, 2023) – The Bass Pro Shops and Cabela's 2022 National Walleye Tour Championship, presented by Progressive, was one for the ages. Not only did John Hoyer become the second pro to claim two NWT Championship victories, but he did so with an unconventional shallow-water swimbait program. While Hoyer is known for summertime casting, he openly admits he struggles early in the year when the water is cold, and the walleyes tend to be finicky. In fact, he described the 2023 season opener on the Illinois River as the opposite of last year's Lake Erie summertime slugfest. Ironically, the results remain the same as the white-hot Hoyer leads again, leaving the rest of the field experiencing Deja vu.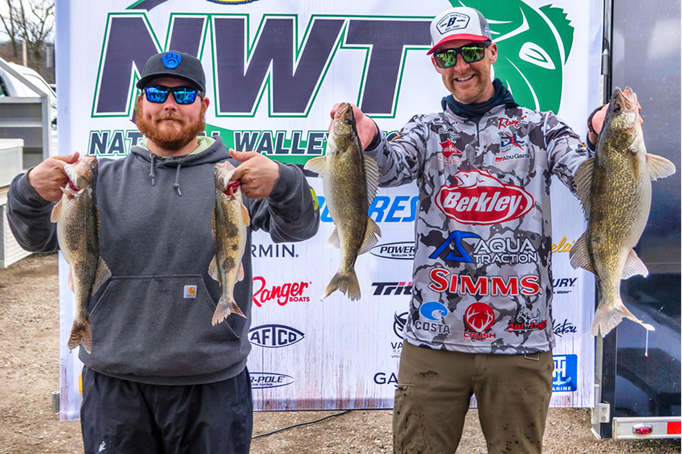 Hoyer's official day-one weight of 12 pounds, 15 ounces looks impressive on paper. In reality, the Orono, Minn., native was not optimistic heading into the opener. In fact, in six days of practice, he only caught a five-fish limit once.
"It was so tough, I did the T-word today," said the Ranger Boats pro. "I'm embarrassed to admit it, but I trolled. Drastic times call for drastic measures."
In practice, Hoyer was seeing marks on his electronics, but that didn't mean he was catching fish.
"I assumed they were Walleyes or Saugers, but practice was so tough I couldn't confirm it. I really had no other choice but to go try and confirm it today. It took us over 4 hours, but we eventually got a limit. I think I actually learned some specific tricks too. Today I was seeing them on side imaging and actually swerving toward them to trigger bites. I'm not a great troller, but I continue to process all that's happening."
While Hoyer leads, he doesn't feel like he's on a special, tournament-winning program like in the past.
"As a realist, I cannot expect that to happen again tomorrow. I had the unicorn bite today. When you catch a 5-pounder on the Illinois River, that changes everything. I know how lucky I am. My No. 1 goal for tomorrow is to catch a limit. Anything more than that is a success."
Hoyer mentioned that the pressure for the Progressive Angler of the Year is off his shoulders, at least for now. While AOY has always been a prestigious award, there's now a lucrative Ranger 620 package attached to it.
"That's the biggest thing for me. It's a long season, and I've already had a great first tournament. A win tomorrow would be the luckiest win of all time. I got the kicker I needed. If I could get 10 pounds tomorrow, I would have as good a shot as anyone."
Confident Courts lurking in second
While he likewise calls Minnesota home, Mark Courts has a strong track record on the Illinois River, and his experience is paying dividends this week.
"This river has always treated me good," said the NWT pro. "It just fits me really well; I feel at home here."
While Courts lamented the finicky bite, he also admitted he's on a strong program.
"I had a lot of confidence going out this morning. I had a couple pretty good days in practice, but at the same time, everything is changing. We've experienced all different kinds of conditions, and we're having to adjust daily."
The normally forthright Courts was tight-lipped about his program, which likely is a reflection of its strength.
"I am really confident. All I can say is that I'm just doing some things that some guys aren't, and there are a lot of people around. With this light bite, sharp hooks have been key keeping fish pinned."
Courts' official weight on day one was 11 pounds, 14 ounces. His two biggest fish were a 20-inch prespawn sauger and a 19-inch prespawn walleye.
"We caught fish all day long, but there was one afternoon flurry that really helped."
In 2004, Courts lost an RCL pro-am tournament on the Illinois River by .02 of a pound. While the 2015 AOY doesn't lack accolades, a major win on the Illinois is something that still eludes him.
"I can still remember I lost a painfully close one to Tom Giachetto many years ago. I haven't forgotten it."
Debernardi- Third
In third place is Wayne, Ill., pro James "JJ" Debernardi with 11 pounds, 7 ounces. Debernardi was the longtime team partner of the late Mike Hanson, an Illinois River ace.
"It's a good start," said Debernardi, who grew up in Ottawa, Ill. "The bite is definitely tough. I'm happy with 11-7, but the way I went about it was sketchy."
Debernardi went on to explain that his primary spot was a bust, and that he was forced to bail and go downriver.
"It was definitely a scramble bite. The mud has hung around days longer than I thought it would. Cool and dirty water makes it difficult for everyone. The fish aren't snapping unless you put it right in front of them."
Debernardi believes the water is slowly, but surely clearing up.
"Tomorrow the water clarity should improve, which should improve the bite for everyone. When it's like this, you've got to go low and slow. Keep the bait close to the bottom, and be ready for light and finicky bites."
Debernardi said his main objective is to get a five-fish limit tomorrow.
"I have a legitimate shot, but the first goal is to get five. It's hard to be consistent on this river. The walleyes and saugers really like to move."
Hjelm in Fourth, Bashore Ends Day in Fifth
Rounding out the top five are South Dakota pros Duane Hjelm and Brian Bashore. Hjelm, the reigning AOY from Pierre S.D., caught a limit weighing 11 pounds, 6 ounces for fourth place.
Bashore, the Sioux Falls, S.D., native, sits fifth with 11 pounds, 4 ounces.
Rest of the best
Rounding out the top 10 pros after day one on the Illinois River:
6th: Chasen Rockstead of Shabbona, Ill.., five fish, 10-15
7th: Will Pappenfus of Shevlin, Minn., five fish, 10-5
8th: Cody Pixley of Bozeman, Mont., five fish, 9-12
8th: Jim Schiefelbein of Marseilles, Ill., five fish, 9-12
10th: John Dalzot of Spring Valley, Ill., five fish, 9-10
The final day of competition begins today at 7:30 a.m. Central time as the full field takes off from the Spring Valley Boat Club, located at 13862 Illinois 89 in Granville, Ill. The final weigh-in also takes place at the Spring Valley Boat Club, beginning at 3:30 p.m. and can be seen live at: https://outdoorteamworks.com/live
2023 Proud Sponsors
Bass Pro Shops, Cabela's, Progressive, Nitro Boats, Ranger Boats, Triton Boats, Mercury Marine, Aftco, Garmin, Power-Pole, TH Marine, Sunline, Gamakatsu