By Brett Carlson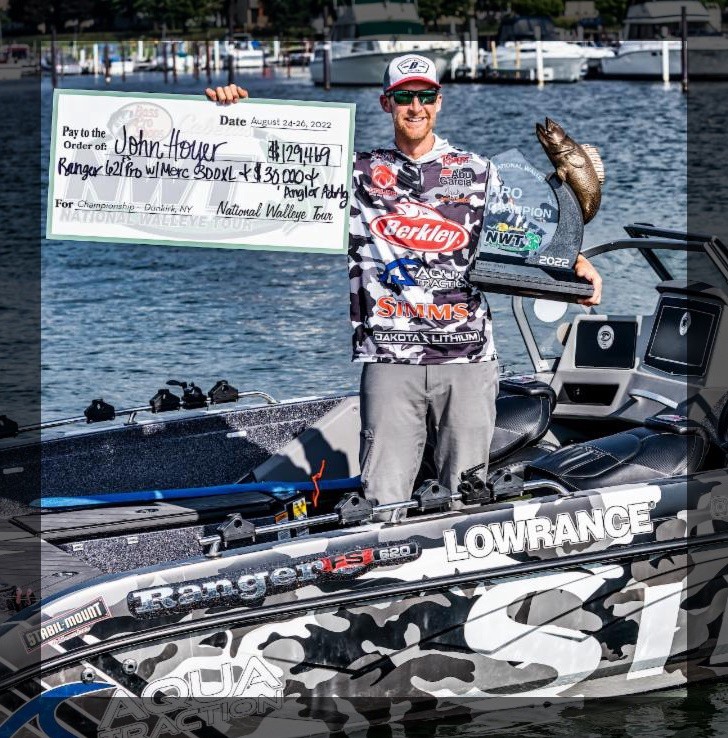 DUNKIRK, N.Y. – Lake Erie is known as the Walleye Capital of the World and its population is currently at an all-time high. So it was no surprise to see the best anglers in the world hauling in walleyes hand over fist at the 2022 National Walleye Tour Championship, presented by Bass Pro Shops and Cabela's. However, the modality used to trigger many of the larger walleyes was downright shocking. Lake Erie is the one venue, perhaps the last traditional walleye factory, where trolling still dominates.
That all changed this week when John Hoyer and Duane Hjelm unlocked a shallow-water casting program and blew away the competition. The end result was Hoyer's second championship victory and Hjelm's first Lucas Oil Angler of the Year title.It was no secret that the Eastern Basin of Lake Erie possesses more structure than the Western Basin, where many springtime tournaments are held. In practice, several pros sampled this deep-water structure with glide baits and jigs.
Fish were caught, but it was generally deemed inefficient, if not grueling. Eight days before the championship commenced, Hoyer identified some intriguing vegetation and investigated on a whim. What he experienced instantly gave him flashbacks to the 2019 NWT Sault Ste. Marie event, where he took second by ripping swimbaits through cabbage.This time around the vegetation was eelgrass, but otherwise the pattern was the same. Using a Berkley PowerBait The Champ Swimmer, Hoyer would cast into the eelgrass, snap the bait as hard as possible to clear the grass, and they'd bite it on the fall. His best colors were HD Bluegill and HD Yellow Perch."I was letting it freefall as fast as it possibly could, and they would absolutely inhale it," said the Orono, Minn., native. "I would use a 1/2-ounce up to a 1-ounce Fusion 19 swimbait jighead depending on the current. With the heavier jighead, it falls even faster and they hit it even harder. That snapping action is the most fun way to catch a walleye – end of conversation. To see how fast they come and hit it on ActiveTarget is literally breathtaking. The only rod I used was a 7-foot medium heavy Fenwick World Class.
That rod was rigged with 10-pound Fireline and a 15-pound Trilene 100% Fluorocarbon leader."Hoyer explained that the prevailing current is what protected his areas, therefore allowing weed growth. While most pros were trolling in 70 feet, the weed-bed depth was only 6 to 12 feet. Hoyer remarked that nearly all the walleyes had a golden color to them, making him believe they're resident fish."We found probably 18 or 20 weed beds, but some were just in bays. The best spots were the classic Canadian rock-weed combos. Today it was weird; the current was raging. It was so fast it was pulling you against the wind. You could see the fish sitting behind the weed clumps, using them as a break in the current. From there, it was a matter of dissecting the spot with ActiveTarget.
Hoyer described these weed beds as a milk run with some up to 5 miles apart. Round trip, he would travel 80 to 100 miles each day.
"It was a struggle early today. I started fishing around 8 a.m., and I put my fifth fish in the livewell at 10:30, but that limit only weighed around 20 pounds. On our third spot, we caught a couple of 5-pounders to move us up some. We kept moving, and finally I hit a spot that I thought could produce maybe two nice walleyes. I got there, and I saw four fish on the graph and assumed they were rough fish. I pitched in there, and it was like hitting a stick of dynamite. I had an 8 1/2-pounder just blow up on it. Then it just got crazy. At the very end of the day I got bit 10 times on my last 15 casts. I literally left them biting at the biggest tournament of the year. I was 40 miles from takeoff with 30 pounds. It was time to just roll in."
Hoyer's official day-three weight was 31.73 pounds, giving him a whopping 102.33 for the tournament. For winning the Super Bowl of walleye fishing, the Berkley/Simms pro earned an upgraded boat package, for being a part of the Ranger Cup program, Ranger 621FS Pro with a 300-horsepower Mercury outboard, plus $30,000 cash and $3,474 in Anglers Advantage money for a total purse of $129,469. After not qualifying for last year's championship, he's now only one of two anglers with two NWT Championship wins. His margin of victory was over 11 pounds.
"I'm still in the moment where it hasn't set in. I do think this one means more than 2019 because of how we did it. It was a dream come true to win it this way. This is just my favorite way to fish. To have those calm, fishable conditions for three days is just unbelievable. As a caster, you envision something like this happening, but so many things have to line up."
Walleye fans might remember Keith Kavajecz winning the 2014 NWT event on Lake Michigan's Bays de Noc. It was the first major tournament won via casting and Great Lakes fishing was forever changed. This event could be a similar game changer on Lake Erie.
"I hope so because it's way more fun than trolling. I mean, honestly, the cat is out of the bag when you have a camera guy in your boat for two days. This is like when Kavajecz and Parsons won Shivering. But we milked it for all it was worth."
Hjelm sacks 30 plus, slams door on AOY
After soaring up the leaderboard yesterday, Hjelm still had some work ahead of him to secure Angler of the Year. As he has all season, he delivered when it mattered most. His day-three limit weighed 30.82 pounds, pushing his total to 90.87 pounds. With three top 10s and 904 points overall, Hjelm was the most dominant and most consistent angler throughout the 2022 season. In the last three NWT events, Hjelm has finished second, first and second. Earlier this month, he also won the Bass Pro Shops and Cabela's National Team Championship on Lake Oahe.
"Winning Angler of the Year is definitely an honor," said the Dakota Lithium pro. "Everybody that does this, this is the award you're striving for; it means everything to me. I'll be honest though, it was the last thing on my mind coming into the event. I didn't think it was even possible. Then as the tournament went on, things started shaping up."
While Hoyer uncovered the shallow weed pattern, Hjelm helped expand it.
"After John discovered this, we built on it to where we had about eight spots. We didn't exactly know the true potential, but we knew it had some good ones. Because it was John's deal, I went and trolled the first day. On day one, he got all that weight from only one spot. So from then on, I joined. I took half, and he took half. We just rotated through the spots. It was a big enough area where we never saw each other. In fact, I never saw another boat."
Hjelm would cast the larger 4.6-inch Swimmer in HD Bluegill while his co-angler would throw the smaller 3.8-incher in HD Yellow Perch.
"We started by finding the edges with SideScan. Then we'd drop waypoints and pick our way through. Rocks weren't a big deal. It was more a matter of finding the right weed beds. There was bait, probably shiners or little perch, and they would use those weeds for cover."
Hjelm would rip the swimbait and then let it completely free fall. Half the time they'd hit it on the fall, and half the time they'd hit it on the rip.
"You're ripping it through the grass, and it's cleaning your bait off too. At times, I would change my cadence as I could see them chase on my ActiveTarget. This might be my new favorite way to fish. It was an unbelievably fun tournament."
For winning AOY, Hjelm receives paid entry into each of the four qualifying events of the 2023 season. His second-place championship finish earned him an upgraded boat package, for being a part of the Ranger Cup program, Ranger 620FS with a 250-horsepower Mercury outboard, plus $15,000 cash and $2,460 in Anglers Advantage money for a total payout of $107,455.
"The money and the boat packages, that stuff all comes and goes. It's about the trophies that will forever sit in my house for everyone to see. Every time I look at those, I'll have the memories of this tournament and this year. That means more than anything to me."
Senior Przekurat third
Until today, Jason Przekurat was the only pro with two NWT Championship victories. The Stevens Point, Wis., native was happy to let go of that distinction.
"I'm happy for John," said the Ranger pro. "He's a great friend of mine, and now he can say he's a two-time champ. He found something that's never been done before on Lake Erie. It's going to open a lot of eyes. You're not supposed to catch walleyes that shallow out on Lake Erie in August."
Przekurat himself ran 45 miles west of Dunkirk towards Erie, Pa.
"What I found is that there were a lot of fish near the shoreline structure in 60 to 70 feet of water. Once you went deeper than that there was basically no activity at all. It was like a dead zone. The biggest fish were right at the edge in 70 to 72 feet."
Przekurat would pull spinners at about 1 to 1.2 mph with a 3-ounce Offshore Guppy weight.
"Where I was fishing, the thermocline was right at that 55-foot mark. It was pretty obvious to see the marks right above the thermocline. For colors, I was using your standard whites and purples. This was a real slow presentation. The goal was to simply keep it in their face and turn the blade. It's an easy meal for a lazy walleye."
For third place, Przekurat will collect a $25,167 payday, of which $10,000 is paid for being a part of the Ranger Cup program, and hurry to La Crosse, Wis., to watch his son, Jay, compete in the final Bassmaster Elite Series event.
"Third place feels like a win for me. I say I won the other tournament, the trolling tournament. Hoyer and Dewey won the casting tournament."
This was Przekurat's third consecutive top-10 at the year-end championship. His son is only two days away from clinching the Bassmaster Rookie of the Year award. Last month, the 23-year-old became the youngest angler to ever win an Elite Series event. He also became the first Elite Series angler to enter the Bassmaster Century Club (for catching more than 100 pounds) with solely smallmouths.
"This week proves the old fart can still catch a few too. In all honesty, I knew I was on a pretty good school of fish, but I'm extremely pleased with third.
Kavajecz fourth, Ragotzkie fifth
Rounding out the top five are Wisconsin sticks Kavajecz and Austin Ragotzkie. Kavajecz, the aforementioned pioneering pro, finished fourth with a cumulative total of 81.12 pounds. Fishing in his second NWT Championship top 10, Kavajecz steadily improved each day. On day one, the Mercury pro boated 25.15 pounds, and on day two he sacked 27.85. Today, he managed 28.12 pounds, the heaviest stringer among the trollers.
Ragotzkie, the Edgerton, Wis., resident, finished with a three-day total of 80.40 pounds. He started the event with a 29.56 stringer and then slipped to 24.41 yesterday. Today, he improved to 26.43.
Rest of the best
Rounding out the top 10 pros on Lake Erie:
6th: Adam Andersen of Amery, Wis., 15 walleyes, 77.25
7th: Craig Sleeman of Victor, N.Y., 15 walleyes, 75.39
8th: Max Wilson of Campbellsport, Wis., 15 walleyes, 70.97
9th: Bill Shimota of Northfield, Minn., 14 walleyes, 65.43
10th: Drake Herd of Alexandria, Minn., 15 walleyes, 65.12
The National Walleye Tour resumes action March 23-24, when the 2023 season kicks off on the Illinois River in Spring Valley, IL