DEVILS LAKE, N.D. (September 7, 2023) – Going into the final day of the 2023 Bass Pro Shops & Cabela's National Walleye Tour (NWT) presented by Progressive Championship, Ranger/ Mercury Pro-Angler John Hoyer has a lot on the line. Not only is he leading the event by a 4-pound cushion over second place, he also is leading Progressive Angler of the Year. But, the Minnesota pro was never seen without his contagious smile, and positive attitude throughout the end of weigh-in on Day 2.
Going into tomorrow, John has a chance to back up his 2022 NWT championship victory, and also win the Progressive Angler of the Year race.
"As crazy as it sounds, I am super calm and feel very comfortable about going out tomorrow on Devils Lake and accomplishing a lot of goals that I had going into this year", said Hoyer.  "I am catching them the way the way I have the most confidence in, I've had great success the last couple of days, these are the opportunities that you dream for in the NWT. I am just very fortunate to be in the situation."
"Tomorrow I'm going out relaxed and I feel very confident with how things are shaping up. I don't think I'd beat up on my fish too much today, and I believe the stars have aligned to have a great day on the water."
Hoyer brought the largest bag weighed in all year on the NWT with a five fish limit of 39.12. Giving him a two-day total of 70.02.
Garmin Pro-Angler Issac Lakich Weighs-In Early with 36.08 to Take Second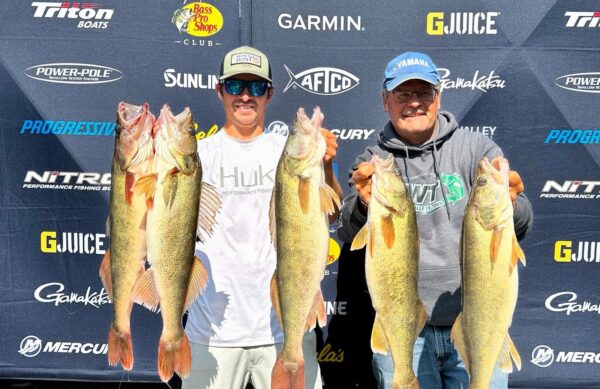 Isaac Lakich is no stranger to top-10 finishes with the NWT. The Mercury pro from Wisconsin once again, finds himself in contention to win a tournament in 2023. Having proven to be an accomplished angler with forward-facing sonar, the young pro goes into the final day of the 2023 Bass Pro Shops & Cabela's National Walleye Tour presented by Progressive Championship in second place with just a 4 pound deficit behind leader, John Hoyer.
"I'm doing what I like to do and what I'm most comfortable with", said the Mercury pro. "I don't feel any pressure, however, to walk away as the champion in this event would mean everything to me, my friends and family, and my career. But I will tell you I have a tough playing field with the rest of the guys who made the Top-10 on the final day tomorrow. Plus, the guy ahead of me knows a little too much about how to close the deal on championships with the National Walleye Tour. That being said, I'm going to give everything I have tomorrow and go out there and leave it all on the water."
Isaac weighed in early at 1pm on Day-2 with an impressive 36-pound bag, one of the biggest sacks weighed in on the 2023 NWT season. After two days, he has a total of 66.10.
Ranger Pro-Angler Dustin Minke in Third with 61.09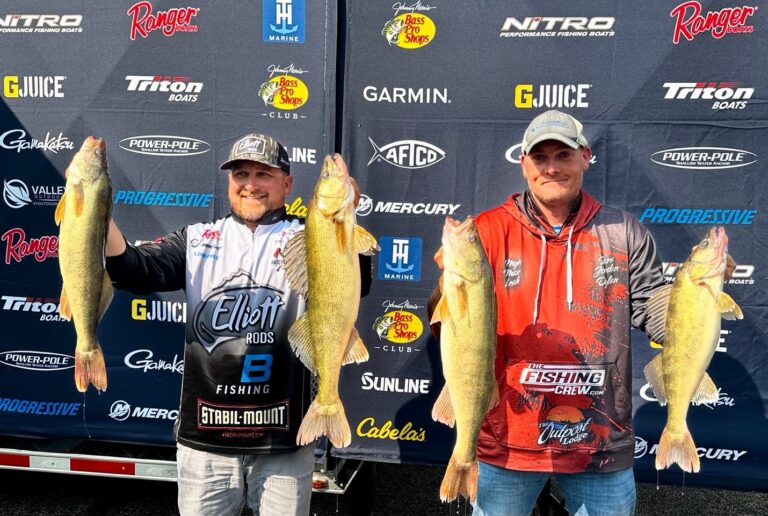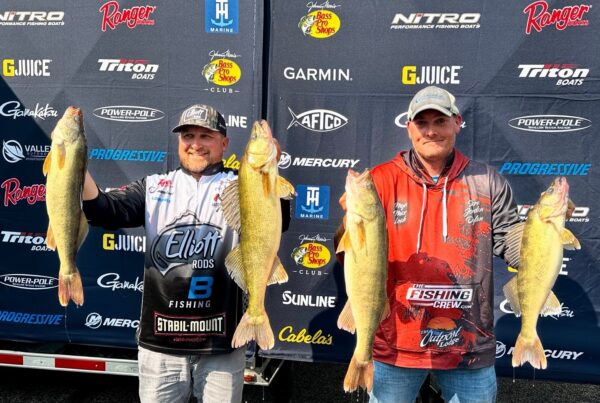 Ranger/ Mercury Pro-Angler Dustin Minke from Walker, MN ends Day 2 staying consistent, weighing in a five-fish limit of 30.06 and goes out third for the final day of the 2023 NWT Championship.
"I really cannot put this week into words. I stated yesterday that I struggled a little bit, but I was optimistic going into today- well what I found was my fish stayed tight to where I found them and seemed to bite better with the wind we had on the water today", said the Minnesota pro.
Tomorrow, it's not about me, it's not about the trophy, it's not about anything but honoring those around me who trust in me and support me. But I can't lie, a brand-new ranger boat and the trophy would be sweet! Plus I am still looking for my redemption on what happened a few years ago".
The Top-10 Pro-Anglers in tomorrow's championship final day will be fishing for $30,000 cash plus other significant cash and prizes, including a 2023 Ranger 620FS powered by a Mercury 250 Pro XS.
The Rest of The Top-10 Cut Fishing the Final Day on Devils Lake:
MATT SCHIEFELBEIN SOBIESKI, WI           56-00
JOSH WIESNER FOND DU LAC, WI    51-15
WILL PAPPENFUS SHEVLIN, MN 50-15
MAX WILSON CAMPBELLSPORT, WI         49-06
MIKE DEFIBAUGH BELLEFONTAINE, OH 47-05
ERIC MCQUOID KEWAUNEE, WI          46-09
KOREY SPRENGEL BEAVER DAM, WI             45-11
Day 1 Pro-Angler results can be found here: https://outdoorteamworks.com/wp-content/uploads/2023/09/2023-NWT-Championship-Day-2-Results_pro.pdf
Day-2 leading Co-Angler is TRINITY SCHAFF with 54.15.
Full Co-Angler results from Day 2 are here: https://outdoorteamworks.com/wp-content/uploads/2023/09/2023-NWT-Championship-Day-2-Results_co.pdf
Additional information on the events, contingency prizes, and more exciting announcements will be shared soon. For more information on updated angler qualifications, please visit www.nationalwalleyetour.com.