Minke in Second and Heiser in Third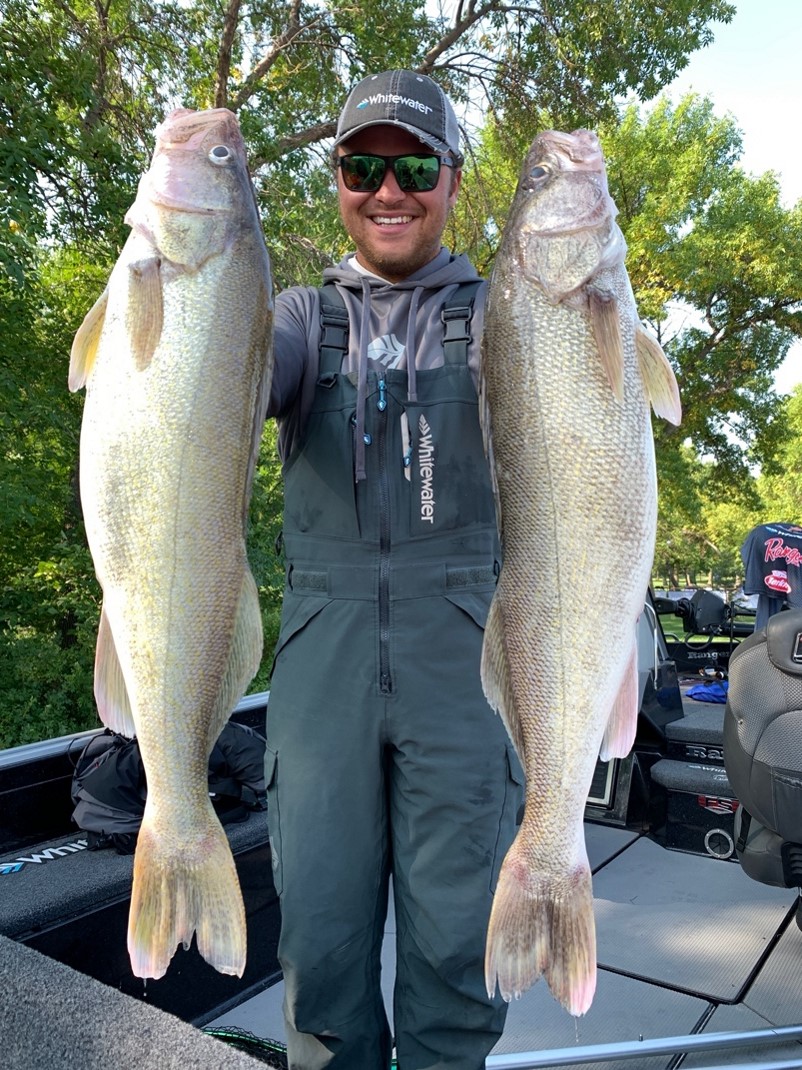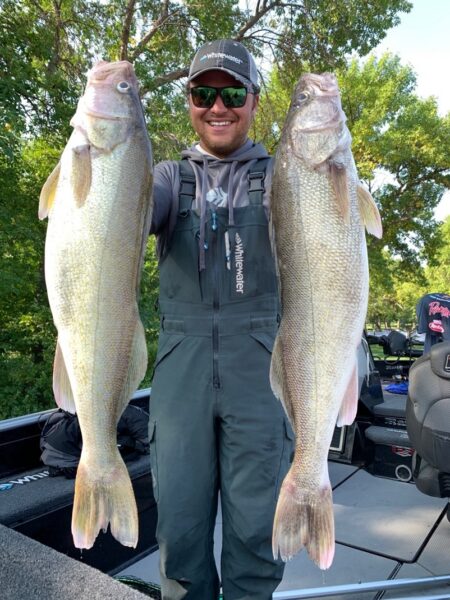 DEVILS LAKE, N.D. (September 6, 2023) – Day One of the 2023 Bass Pro Shops & Cabela's National Walleye Tour (NWT) presented by Progressive Championship on Devils Lake in North Dakota is complete and the leader is Ranger/ Mercury Pro Matt Schiefelbein!
The elite field of 2023 NWT Championship qualifiers were met with cooler temperatures and post-frontal conditions on Devils Lake, to start the three-day championship. Expectations were high and the camera teams were quickly sending reports from the anglers of steady and early fish catches for most of the top 10. Wisconsin angler, Schiefelbein and his co-angler ultimately came in off the water early and weighed in a five fish limit worth 32.01 to take the day one lead.
"My game-plan was just to try and catch five, but the fish I found in practice grew a bunch and were biting early", said the Ranger Boats pro. "I thought I could easily catch 20 pounds, but I am fortunate to end up with what I did, and I feel very confident looking at the rest of the tournament".
Matt later reported catching nine fish throughout the day before calling it quits.
"I also want to thank all of my sponsors, my family, my girlfriend (Amy) and everyone else that believes in me, a 24-year-old kid with a dream, I am not feeling any pressure- but I sure want to bring this one back to Wisconsin".
AFTCO Pro-Angler Dustin Minke in Second with 31.03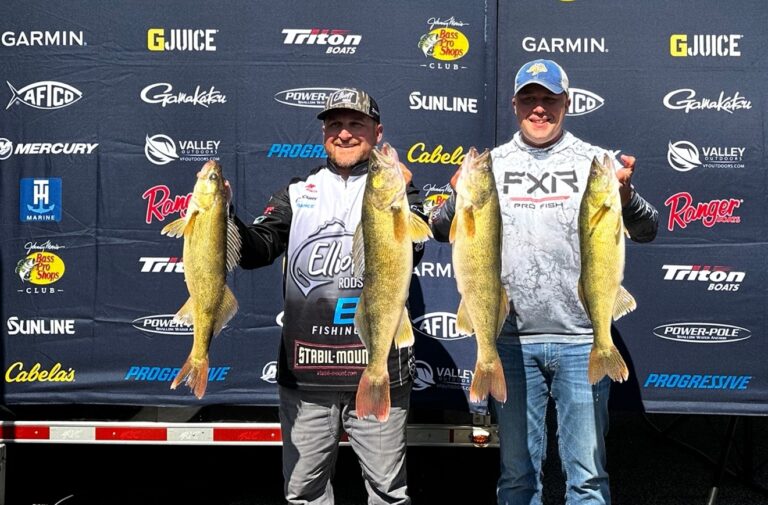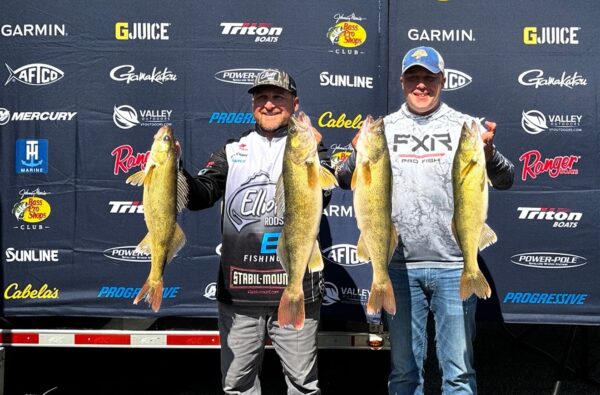 13-year NWT veteran and Ranger/ Mercury Pro-Angler Dustin Minke from Walker, MN ends Day 1 less than a pound out of the lead with 31.03. Dustin, also weighed his five fish limit early before the check-in time, also reported finding a fishing frenzy early and it paid off.
"I had a horrible practice", said the Ranger Pro. "I was forced to practice up until the last day, even with the weather that moved in, I had no choice because I just didn't find anything until that final day of Devils Lake". But today, Dustin reported have the best day of his 2023 season as things changed and his fish improved. "Man….this is a great feeling, but I'm not going to lie, this one is going to make me nervous. To be in this position means everything to me, my sponsors, and my family".
Dustin finished in 7th place in 2023 Progressive Angler of the Year Points to qualify him for the championship on Devils Lake this week.
Third Place belongs to Ranger/ Mercury Pro-Angler Corey Heiser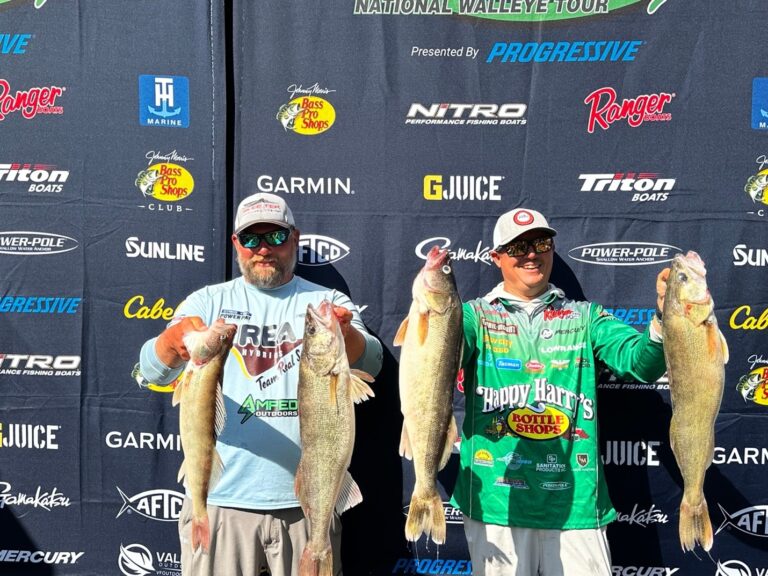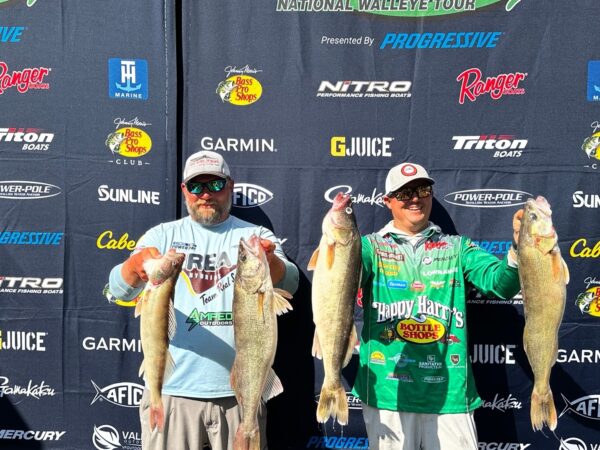 Coming off at Top-5 finish at the last regular season event of the 2023 Bass Pro Shops & Cabela's National Walleye Tour presented by Progressive on Sault Ste Marie, Ranger/ Mercury Pro-Angler Corey Heiser continued his recent hot streak by weighing in a five fish limit of 30.15. This put the North Dakota Pro-Angler in third place.
"I had a really solid practice and I felt good about the tournament", said Heiser. The bite didn't start out to quick for me. Once I had them dialed in, things just fell in place for me, even my co-angler caught a few that helped us out today".
Corey's final thought after day one was that he feels confident about things tomorrow, and feels that he can repeat his success again on Day Two.
The Rest of The Top Ten After Day 1 on Devils Lake:
4.) Eric McQuoid   Kewaunee, WI      30.10
5.) John Hoyer      Wayzata, MN         30.06
6.) Issac Lakich     Richfield, MI          30.02
7.) Max Wilson       Campbellsport, WI   28.02
8.) Mike Defibaugh   Bellefontaine, OH   26.14
8.) Josh Wiesner   Fond Du Lac, WI  26.14
10.) Drake Heard Alexandria, MN     26.07
Day 1 Pro-Angler results can be found here: https://outdoorteamworks.com/wp-content/uploads/2023/09/2023-NWT-Championship-Day-1-Results_pro.pdf
Day-1 leading Co-Angler is Rich Weiss with 32.01
Full Co-Angler results from Day 1 are here: https://outdoorteamworks.com/wp-content/uploads/2023/09/2023-NWT-Championship-Day-1-Results_co.pdf
Additional information on the events, contingency prizes, and more exciting announcements will be shared soon. For more information on updated angler qualifications, please visit www.nationalwalleyetour.com.