SPRINGFIELD, Mo. (June 29, 2023)- Duane (Dewey) Hjelm is starting to make his case to be recognized as the best tournament walleye angler in the world right now. After another impressive performance, the South Dakota pro took home the win at Lake Francis Case and now finds himself in the lead of the 2023 Progressive Angler of the Year race with just one regular season tournament to go on the 2023 Bass Pro Shops & Cabela's National Walleye Tour presented by Progressive.  If he holds on to win this year, that will be back-to-back NWT Angler of the Year titles.
Dewey's last 12 months include ending the 2022 season as the 2022 National Walleye Tour Angler of the Year.  Then at Spring Valley in March, he proved his momentum had not stopped, as he captured a second-place finish to start the 2023 season in Illinois.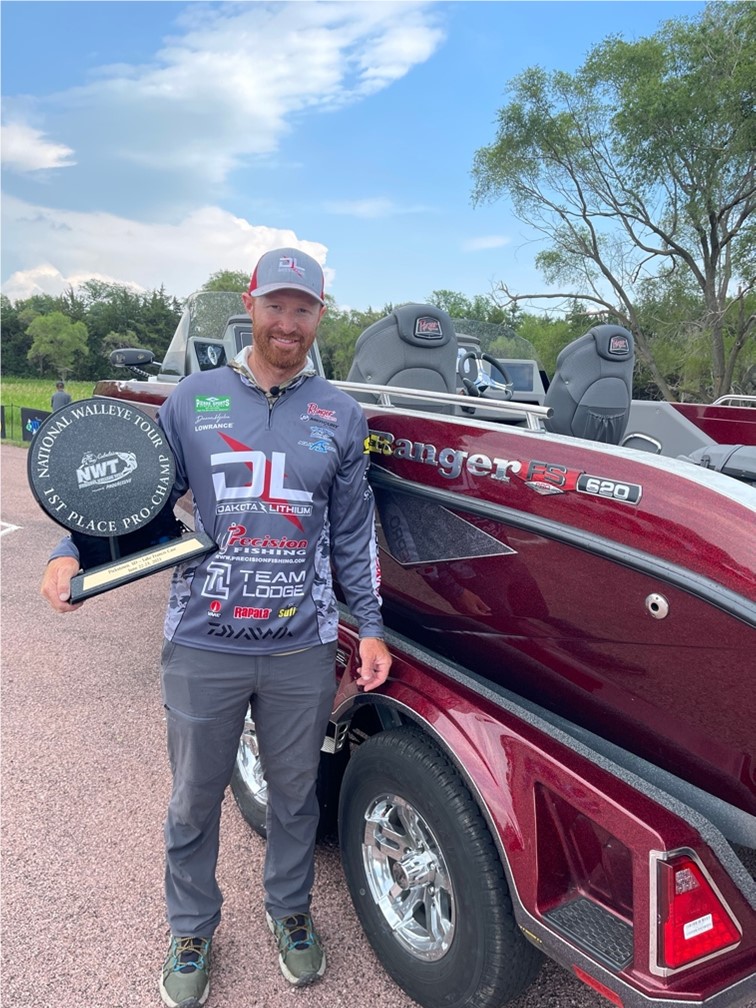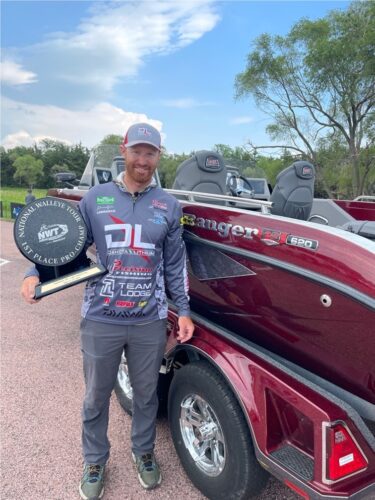 He backed that up by with a Top-25 finish in Oshkosh, WI, and then this past week he added another first place trophy to his mantle.  To recap this season so far with one tournament left, the Ranger/ Mercury Pro-Angler has finished 2nd (Illinois River), 22nd (Lake Winnebago), and 1st (Lake Francis Case).
In total, Dewey has won $127,420 in cash, prizes, and contingency bonuses in 2023 and has earned 578 points to open a 21-point lead over second place……and that angler is his traveling partner and another of the hottest walleye pros on the NWT Ranger/ Mercury Pro-Angler John Hoyer.
Rest of the Top-10 in 2023 Progressive Angler of the Year Points:
2.) JOHN HOYER- 557 points
3.) DYLAN NUSSBAUM- 551 points
4.) ERIC MCQUOID- 542 points
5.) TOM HUYNH- 538 points
6.) MIKE DEFIBAUGH- 528 points
7.) WILL PAPPENFUS- 526 points
8.) JUSTIN SCHNEIDER-525 points
9.) MATT SCHIEFELBEIN- 518 points
10.) DUSTIN T MINKE- 516 points
Leading the 2023 Progressive Co-Angler of the Year points is Jesse Glines from Buffalo, SD with 546 points.
2-10th in 2023 Progressive Co-Angler of the Year Points:
2.) JONATHAN CIESLAK- 536
3.) TANNER THOMPSON-MOAD- 523
4.) ERIC WESOLOWSKI- 519
5.) ANABEL BERG- 509
6.) RICH WEISS- 508
7.) ANDREW KOTOWSKI- 503
8.) PAUL STOKES- 501
9.) TIM ZIRBEL- 486
10.) JEFF CORTEZ- 485
Complete 2023 Progressive Pro- & Co-Angler Points Standings
The next event for the 2023 Bass Pro Shops & Cabela's National Walleye Tour presented by Progressive season is on the St. Mary's River, July 27th-28th in Sault Ste Marie, MI. Registration is still open, and the office is still taking calls for Pro-Angler entries until July 14th.
To register, click the link: https://outdoorteamworks.com/trail/nwt/registration/
Additional information on the events, contingency prizes, and more exciting announcements will be shared soon. For more information on updated angler qualifications, please visit www.nationalwalleyetour.com.
About National Walleye Tour
National Walleye Tour (NWT) is part of the Outdoor Team Works family of fishing tournaments. The OTW brand offers a wide range of fishing events from professional tournaments to grassroots fishing derbies. All events are supported by some of the top companies in the nation and include on-site activation and activities, as well as extensive media support. For live updates and information, follow NWT on Facebook and Instagram or visit https://outdoorteamworks.com/ to catch up on all the action.
2023 Proud Sponsors
Bass Pro Shops, Cabela's, Progressive, Nitro Boats, Ranger Boats, Triton Boats, Mercury Marine, Aftco, Garmin, Power-Pole, TH Marine, Sunline, Gamakatsu