SPRINGFIELD, MO (April 19, 2023) – The race for the Texas Team Trail Team of the Year presented by Progressive after two events shows a mix of talented teams at the top.   Currently the Arizona team of Seth Furmanek and Robert Kettner are in first place but close behind them are the teams of Campbell and Frankins in 2nd place and Mundy and Bonds in 3rd Place.
Going into the event at Ray Roberts this weekend teams many of the teams behind the top 3 are hoping to gain ground in the standings while also keeping an eye making sure they are in the top 75 to ensure qualification for the season ending Championship at Choke Canyon.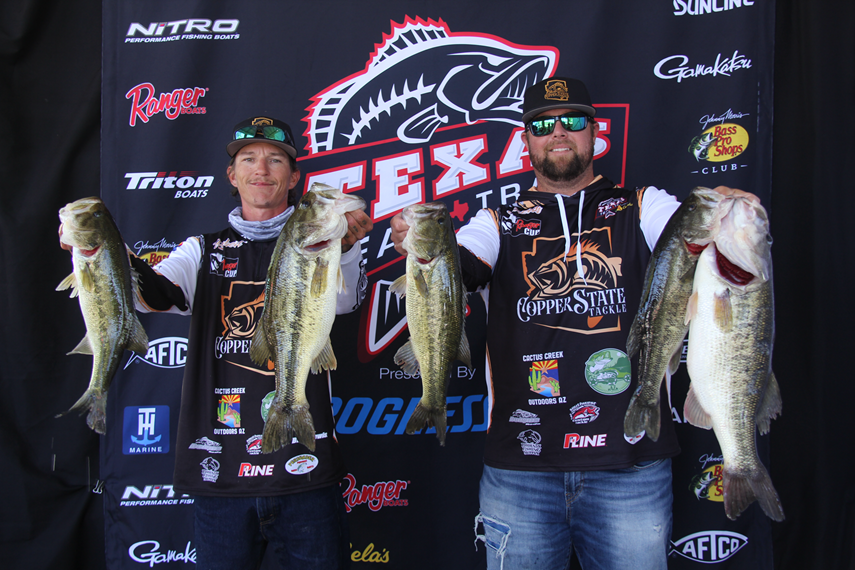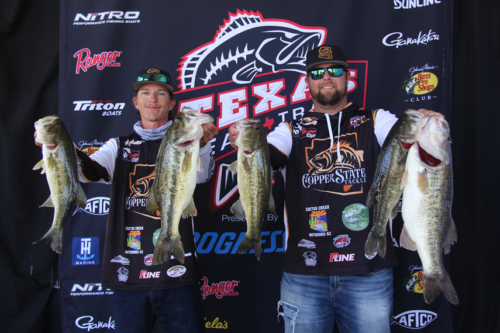 "Leading the team of the year race as of right now is our ultimate goal and end goal, it is a true blessing from the Lord to be where we are, as well as a lot of hard work put in", says current Progressive Team of the Year member Seth Furmanek. "However, we are only 2 events in and I'm a realist. It's gonna be tough! That being said, it is not our focus right now. Our focus is one cast, one fish, one day at a time". Seth, an Arizona angler making the drive with his team partner Robert Kettner went on to say this about the Lake Ray Roberts event this weekend, "we will be looking to try and stay on top of this group of talented anglers and Lord willing we have another good showing. I look forward to putting my Copperstate Baits and 6th sense rods to work, as they have been key for us! David at Copperstate has really helped us out this year, 6th Sense has given us a great arsenal to choose from to put fish in the box, and I also know my eyes will be key in the spring using the best lenses out there from Waterland will be an advantage. Looking forward to this event, we don't take anything for granted, taking it one cast at a time."
For the first time in the trail's history, the first-place team in the Team of the Year standings after the championship will win a brand-new RANGER Z518 boat and motor package.  They also will win free 2024 TXTT season entries and premium Bass Pro Shops gear, as well as other prizes and recognitions. The remaining top 10 teams will receive varying cash payouts, top-line Bass Pro Shops fishing gear, and Bass Pro Shops gift cards as noted below which is the largest payout of any team trail for it's team of the year program.
For a complete breakdown of the team of the year standings for the 2023 season you can click this 2023 Team of Year Standings Link
Prizes will be awarded based on season-long points standings after the championship. With an overall purse value of more than $50,000 the top 10 prize packages will include the following:
1st Place, Team of the Year
Qualified White River Marine Group boat owners will be upgraded
Free entries into all Texas Team Trail Regular Season events in 2024
Bass Pro Shops Guidewear set for each team member.
Special media coverage of finish within Texas Tram Media Assets.
Rings and Plaques for each team member
2nd Place
$2,000 cash payout
Free entries into all four regular season Texas Team Trail events in 2024.
Bass Pro Shops Guidewear set for each team member
$500 Bass Pro Shops Gift Card
Plaques for each team member
3rd Place
$1,500 cash payout
Bass Pro Shops Guidewear set for each team member
$250 Bass Pro Shops gift card
Plaques for each team member
4th Place
5th Place
6th-10th Place
$500 cash payout per team