OSHKOSH, Wi (May 18, 2023) – After two days of competition on Lake Winnebago in Oshkosh, WI at the second tournament of the 2023 Bass Pro Shops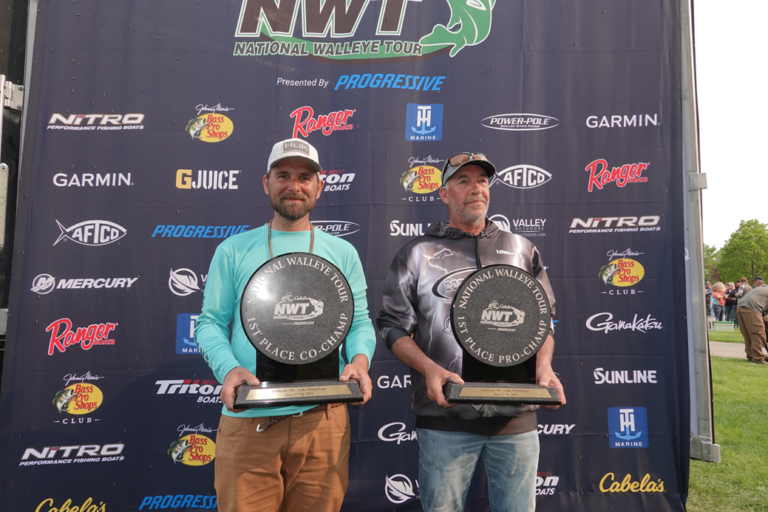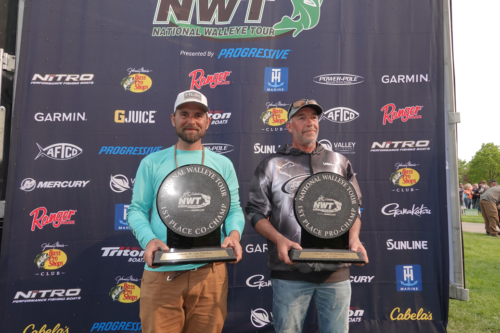 & Cabela's National Walleye Tour presented by Progressive, Pro-Angler Todd Zemke from Red Wing, Minnesota and Co-Angler Alexander Kenny from Mequon, Wisconsin are the champions!
Todd left the dock on Thursday morning with over a 2-pound lead and despite a tougher second day, the Minnesota angler came in early with enough to walk away with the win collecting $15,000 cash and a new 2023 Triton Fishhunter 206 with a 225 Mercury Pro XS motor as well as winning  a Mercury Contingency Bonus of $1,000. In all, Todd captured $88,435 in cash and prizes for the win.
"There were several different factors that contributed to my success" said the Mercury Marine pro. "I was able to locate fish shallow and the sun showing itself both days really helped my fish react. I never went further than 7 feet of water in the upper lake and main lake- those were my primary areas". Todd reported that he caught his fish primarily on spinners on boards in three feet of water using two-hook harness crawlers. "I kept the boat at 1.2mph and staying around the weeds seemed to be the ticket to the fish that wanted to react". Todd's winning weight was 31 pounds and 10 ounces.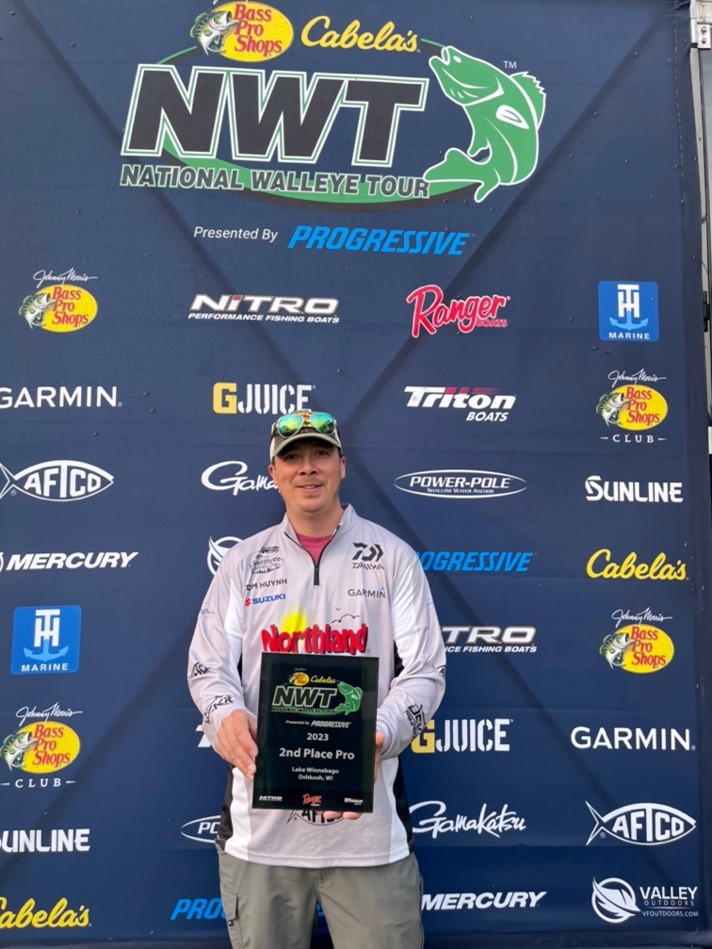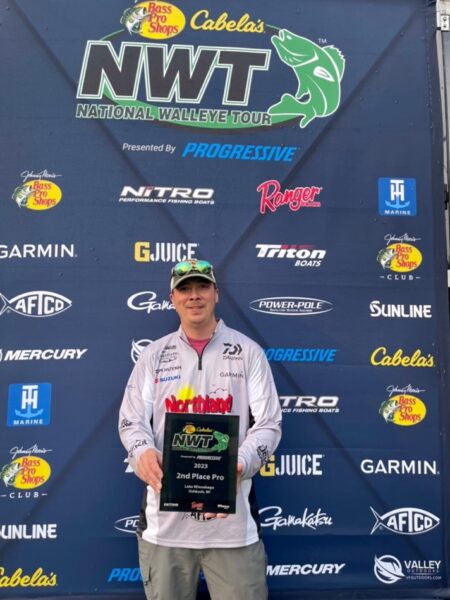 Huynh Holds On To Second Place- 31.03
Wolverton, Minnesota Pro Tom Huynh was able to end his tournament capturing the second place spot winning $24,122 including the $500 Garmin Contingency bonus.
"I ended up fishing jigs super shallow up the river after I stumbled onto a pattern the last day of practice. I didn't catch many fish but the fish I did get into the boat were the right quality," said the AFTCO pro angler. "A key bait for me this week was a prototype Northland Tackle plastic that will be released next year". Tom said the special part of this prototype plastic is it allows the angler to apply their own scent and the plastic soaks up the scent lasting longer throughout the day of fishing. "My Garmin electronics were key this week to find reactive fish and help the fish stay interested until they ended up biting. Also, with the wind today and cooler weather, my AFTCO gear kept me comfortable throughout the tournament".
Third Place Belongs to Local Pro Curtis Tripke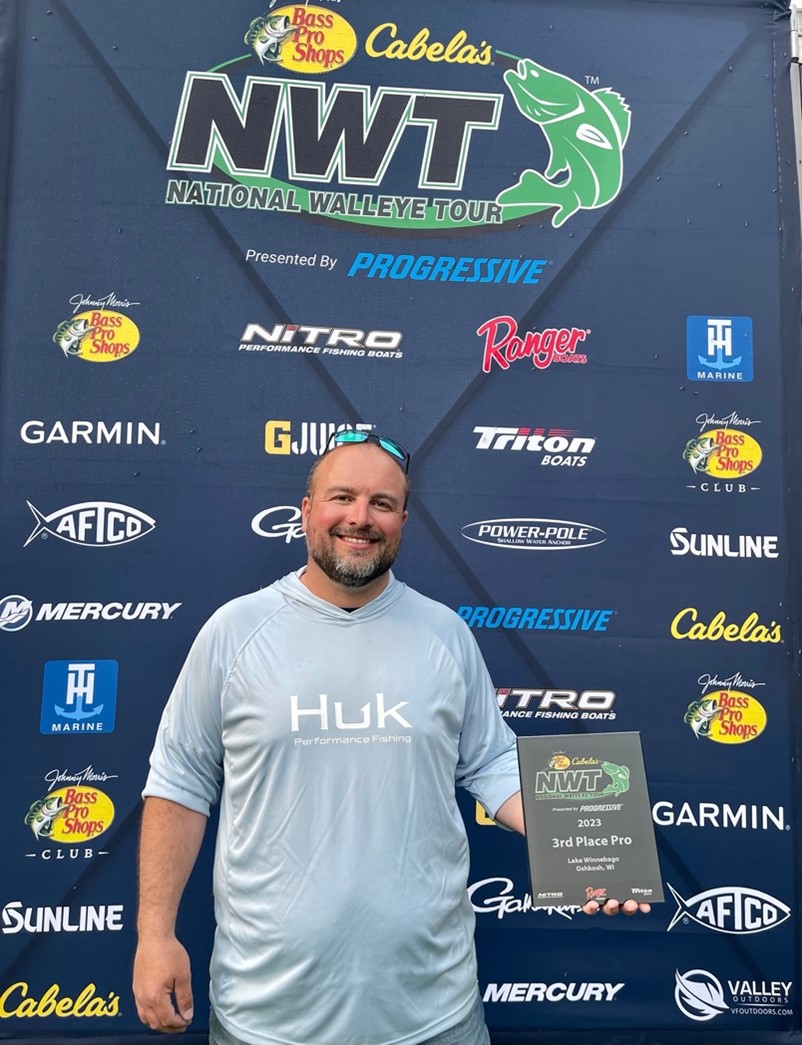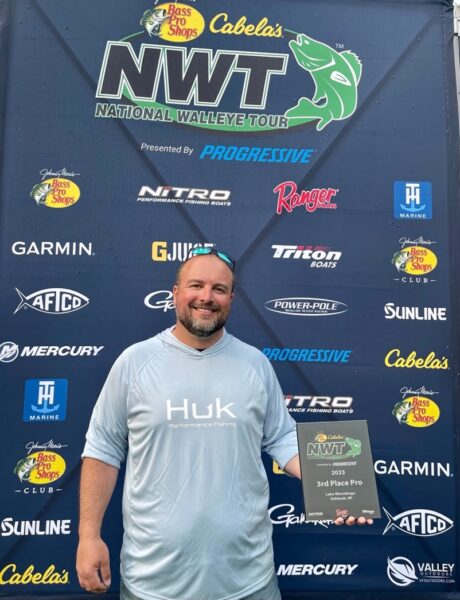 Curtis Tripke from Fond Du Lac, Wisconsin ended the tournament taking home third place while notching his first Top-10 finish with the National Walleye Tour. After two tournament days, Curtis's total weight was 26.11. For his week of fishing, Curtis earned $16,034
"I am so thankful for the week I had, especially not getting to pre-fish. But being local and fishing this lake all the time really helped me throughout the tournament", said Tripke. "Yesterday I didn't have my first keeper until after lunch. Both days I had to run multiple spots before finding the fish I needed. I stayed shallow, away from the crowd, and just stayed confident throughout the tournament making sure I kept the fish I needed". The Wisconsin Pro also commented that jigs were his keys to success this week on Lake Winnebago and similar lures to imitate a trout-perch, the main forage in Lake Winnebago.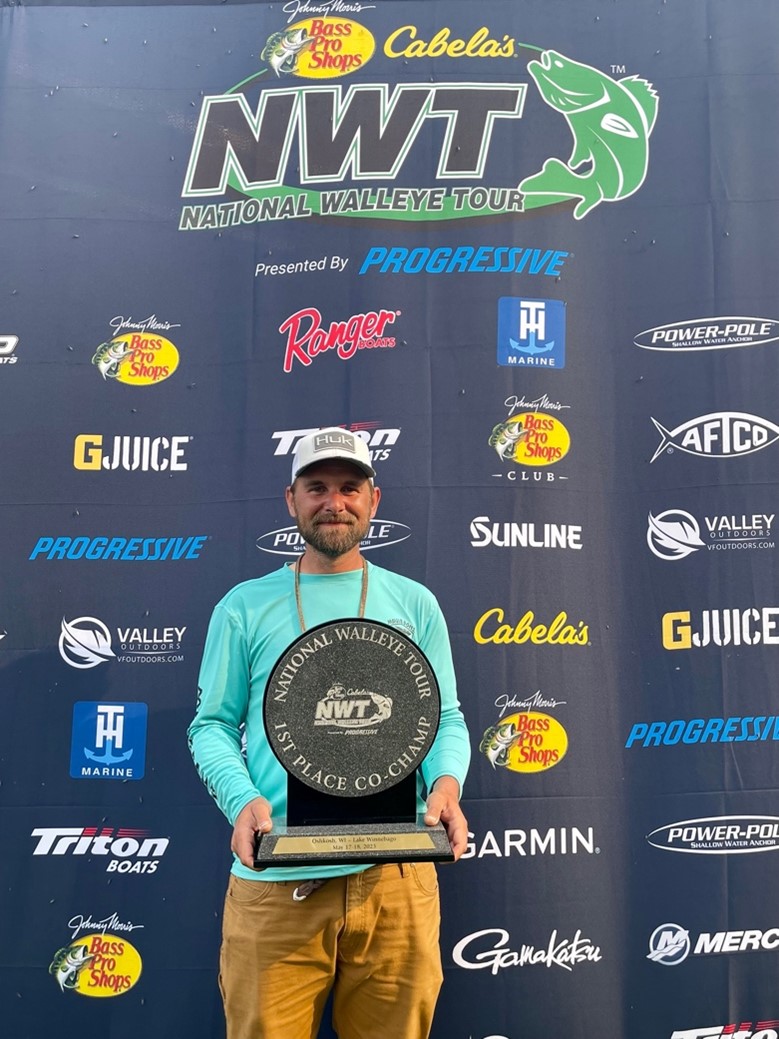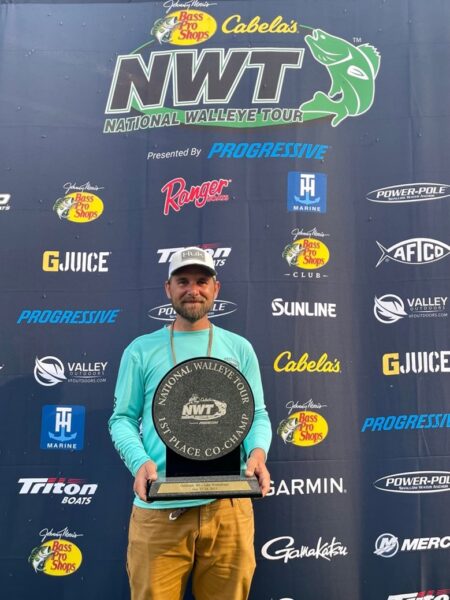 Kenny Takes the Co-Angler Crown
Mequon, WI Co-Angler Alexander Kenny takes home the title after weighing in 28.02 over the two days and a check worth $7,500. "Day 1 my Pro-Angler and I were live baiting and jumping around spots", said Kenny. "Both days were exceptionally tough, the weather wasn't ideal I don't think for us. But today my Pro and I grinded out on one group of fish and were fortunate to catch the right five keepers". Alexander wanted to especially thank his Pro-Anglers both days, his family, traveling partners, and his sponsor Fish Boys Custom Rods.
Full Results for Pro- and Co- Anglers can be found below.
Pro-Angler: https://outdoorteamworks.com/wp-content/uploads/2023/05/2023-NWT-Oshkosh-FINAL-RESULTS_pro.pdf
Co-Angler: https://outdoorteamworks.com/wp-content/uploads/2023/05/2023-NWT-Oshkosh-FINAL-RESULTS_co.pdf