OSHKOSH, Wi (May 17th, 2023) – Day 1 of the Bass Pro Shops & Cabela's National Walleye Tour presented by Progressive at Lake Winnebago in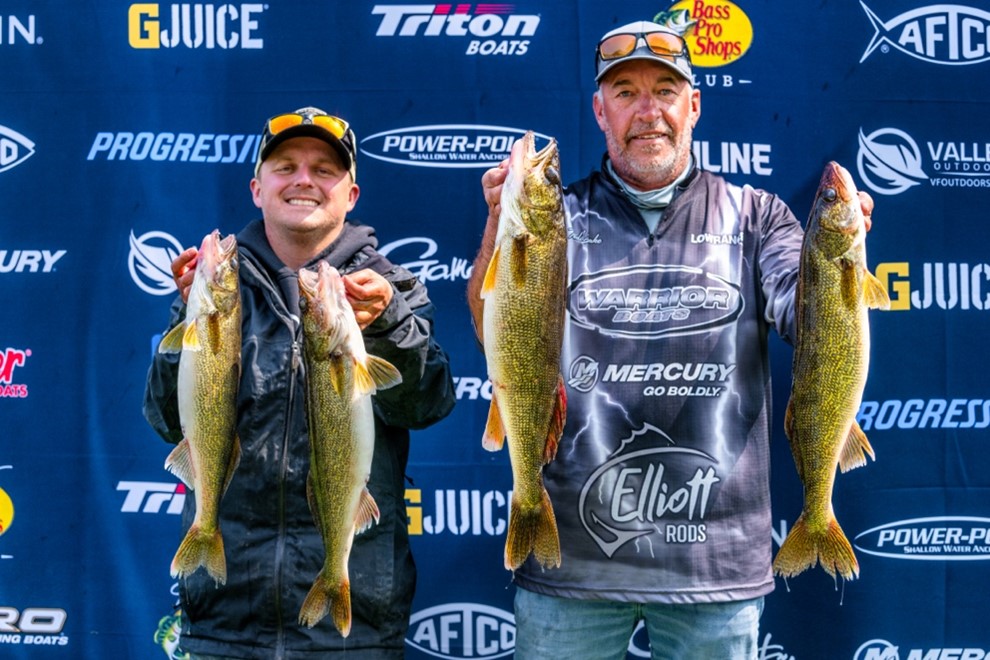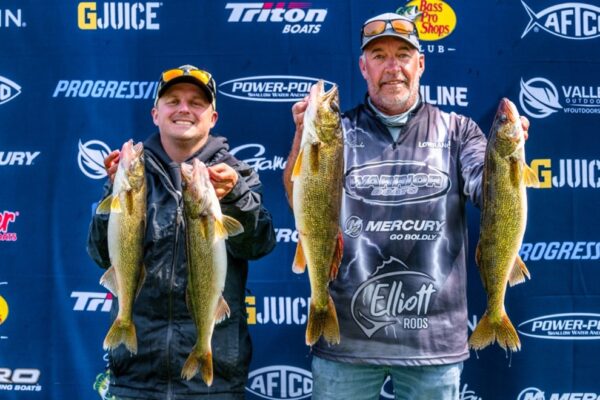 Oshkosh, WI ends with NWT Pro-Angler Todd Zemke at the top of the leaderboard with a five fish limit weighing 19.05 and leading the Co-Angler field is South Dakota angler Tyler Kroupa.
"I tell you it was nerve-racking at first because I had good fish located in an area of the big lake, and with the way wind was blowing I wasn't sure what to expect", reported Mercury Pro and Day 1 leader Todd Zemke. "I got to my fish this morning, noticed the water had gotten dirty, and thought about just leaving to go to my next spot. But I stayed and it paid off because the fish started biting right away. I caught a couple of my key fish early, my co-angler caught one as big as my best fish and throughout the day everything just played out t in my favor. We do not get many days like that on the water, and it also allowed us to come in a little early," said the Minnesota pro. "I am looking forward to tomorrow and putting my Elliott Rods back to work and I think the fish will hold up, I saved a few, but with the wind change it could cost me too. But being in this position feels good."
Day 2 blast off will be at 7:00 am CST out of Menominee Park in Oshkosh, WI. With the weigh-in streamed live later in the day as the rest of the over 144 pro anglers will have their sights set on catching Todd Zemike.   A look at some of the nearest competitors follows.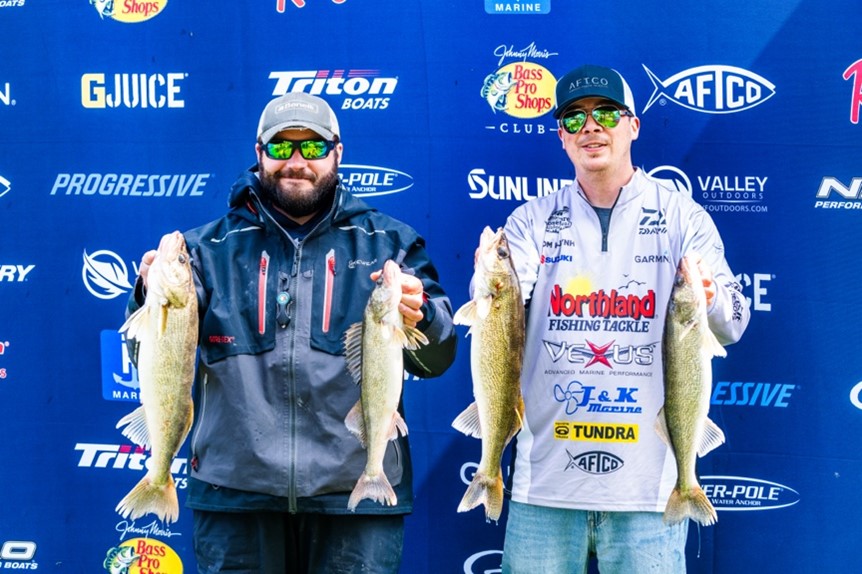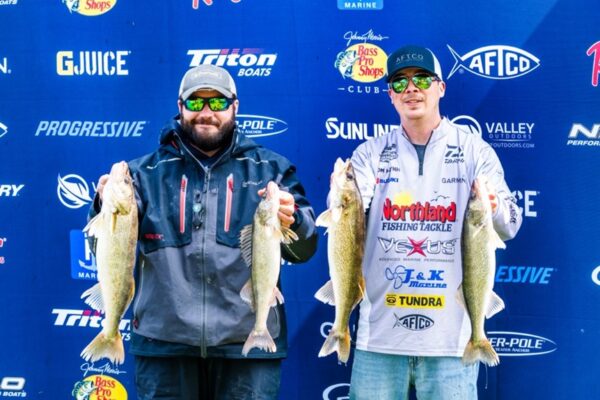 Tom Huynh End Day 1 in Second with 17.00
Garmin and Aftco Pro-Angler Tom Huynh used his strategy from practice to capitalize on Day 1 on Lake Winnebago.  His plan was to separate himself from the crowd and fish alone. "Today just fell in place for me, we fished alone out there today, and I had a great co-angler, things developed throughout the day, and it ended up allowing me to come in a little early," said Huynh. "I am really capitalizing on my style of fishing; I am locking one bait into my hand, and it is working. I only fired up the big motor one time to move today." Tom also went on to say that Garmin Livescope was a key to his success. I am maintaining being able to accurately dial in the depth of the fish and making sure I stayed in the strike-zone throughout the day.
Power-Pole Pro Max Wilson Finishes Out the Top-3 After Day 1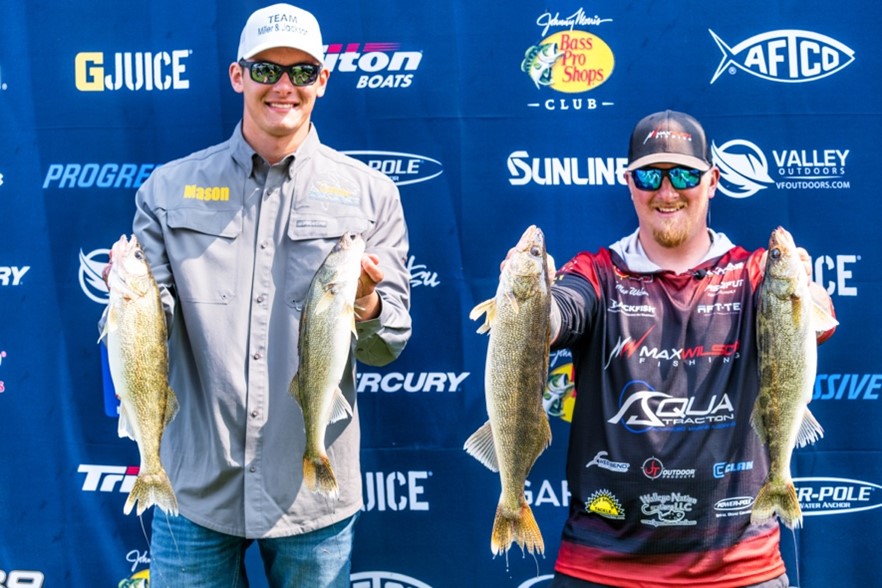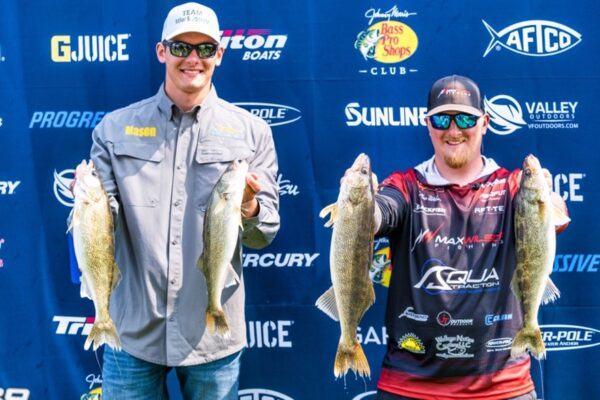 No stranger to the top of the leaderboard is Max Wilson. After watching his roommate JJ DeBernardi take home the prize at Spring Valley at the first NWT event of the 2023 season, Max had a lot of momentum coming into this event on Lake Winnebago. The Mercury Pro went on to comment, "…this was the tournament I thought I was going to struggle the most in, but today just worked out. I am happy with the results, but nothing is on my mind by going back out there tomorrow and duplicating what I have today if I want a shot at winning this one." The Wisconsin angler weighed in with a limit of walleye for 15.11.
Top-10 Pro-Angler Results:
1
TODD ZEMKE RED WING MN
19-05
2
TOM HUYNH WOLVERTON MN
17-00
3
MAX WILSON CAMPBELLSPORT WI
15-11
4
ROY VIVIAN MCFARLAND WI
14-10
5
MITCHELL DAUN MANITOWOC WI
14-04
6
MIKE DEFIBAUGH BELLEFONTAINE OH
14-03
7
RYAN DEMPSEY GREEN BAY WI
14-02
8
ZACHARY AXTMAN RUGBY ND
14-01
9
WESLEY ROBL OSHKOSH WI
13-04
9
JUSTIN SCHNEIDER MALONE WI
13-04
Full Pro-Angler Results Link: https://outdoorteamworks.com/wp-content/uploads/2023/05/2023-NWT-Oshkosh-Day-1_pro.pdf
Top-10 Co-Angler Results:
1
TYLER KROUPA LAKE PRESTON SD
19-05
2
ROBERT REWOLINSKI LARSEN WI
17-00
3
MASON JACKSON BELLEVUE IA
15-11
4
CHRIS LANNBRECHT BRILLION WI
14-10
5
CHRIS REINHARDT MONDOVI WI
14-04
6
JEFF FEUCHT HORICON WI
14-03
7
TIM ZIRBEL OSHKOSH WI
14-02
8
JARED FEUCHT MAYVILLE WI
14-01
9
MARK BEGOTKA STRATFORD WI
13-04
9
TIMOTHY BERG PALISADE MN
13-04
Full Co-Angler Results Link: https://outdoorteamworks.com/wp-content/uploads/2023/05/2023-NWT-Oshkosh-Day-1_co.pdf
Tomorrow is the final day of the 2023 Bass Pro Shops & Cabela's National Walleye Tour presented by Progressive event at Lake Winnebago in Oshkosh, WI where the champion Pro-Angler will win $15,000 cash and a 2023 Triton 206Fishhunter with a Mercury 225 Pro XS. The winning Co-Angler will win $7,500 cash. Final weigh-in will start at 3:00pm CST and can be seen LIVE at: https://outdoorteamworks.com/live/
About National Walleye Tour
National Walleye Tour (NWT) is part of the Outdoor Team Works family of fishing tournaments. The OTW brand offers a wide range of fishing events from professional tournaments to grassroots fishing derbies. All events are supported by some of the top companies in the nation and include on-site activation and activities, as well as extensive media support. For live updates and information, follow NWT on Facebook and Instagram or visit https://outdoorteamworks.com/ to catch up on all the action.
2023 Proud Sponsors
Bass Pro Shops, Cabela's, Progressive, Nitro Boats, Ranger Boats, Triton Boats, Mercury Marine, Aftco, Garmin, Power-Pole, TH Marine, Sunline, Gamakatsu